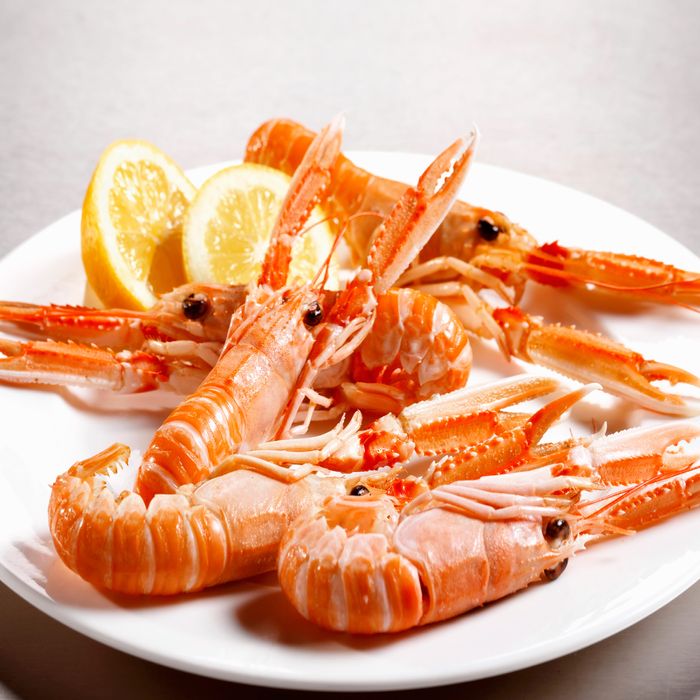 The shell is good for you, too.
Photo: Stuart MacGregor/Corbis
If Valentine's Day is good for anything, it's an excuse to enjoy an excessive amount of rich, delicious food in the name of "romance." When you're not getting all lovey-dovey, you might want to take it easy and give your body some love. This week's healthy eats around town include lobster agnolotti, fennel with kumquats, and caulfilower steak. Find out where to get these dishes, and more, ahead.
Monday, February 11: Go for the Seafood at Franny's
Franny's may be known for its superlative pizza, but the vegetable and seafood dishes are alone worth the trip. Try the cleanest-tasting head-on shrimp you can get on the eastern seaboard — and be sure to eat the shell, which is good for lowering cholesterol. Round it out with a colorful citrus salad with pistachios and olives, and the puntarelle, a type of Italian chicory that's hard-to-find and excellent for your insides.
Tuesday, February 12: Lunch at Union Square Café
It's Tuesday, so treat yourself to this restaurant's pork chop cassouletta, in which the potentially negative effects of a Berkshire pork sausage are perfectly canceled out by beans and kale.
Wednesday, February 13: Order Vegetarian Steak at Salumeria Rosi
Cauliflower may be ubiquitous, but the cauli-steak at Salumeria Rosi comes with antioxidant-loaded black rice and almonds. This is one dressed-up vegetable entree.
Thursday, February 14: Enjoy a Tasting Menu
If you're celebrating the holiday, choose from two wholesome prix fixe menus tonight: an all-seafood one at Il Buco Alimentari, with hamachi crudo, lobster agnolotti and pan-roasted sea bass, or, if turf appeals, Vinegar Hill House is serving fennel with kumquats and duck breast with coconut milk.
Friday, February 15: Eat at the Salad Bar at Hu Kitchen
The salubrious options here overwhelm, leaving you with no option but to try a medley from the salad bar: Pasteured venison, stuffed portabello with yam and walnuts, and organic almond-crusted chicken tenders are a few of many virtuous picks. There's also a healthy dessert bar packed with chia puddings and four types of granola.