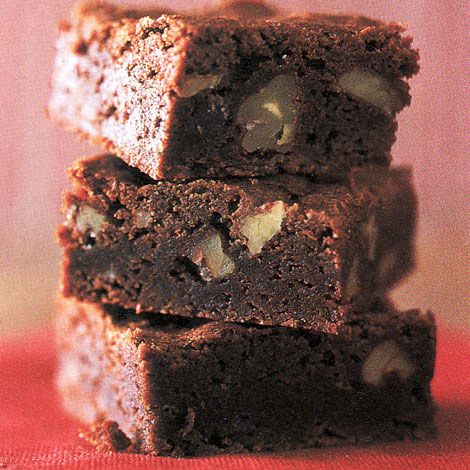 Gramercy Tavern's Off-Menu Brownies.
Photo: Anna Williams
As you've no doubt been warned numerous times this morning, there's a city-pummeling snowstorm headed this way. Which means your weekend plans are probably shot, and you'll be stuck inside at least through tomorrow afternoon. But you've still got time to grab some groceries before the Nemopocalypse hits, and we've rounded up a slew of recipes you can cook while you're cooped up. Some are short, some are time-consuming, but all are straight-forward and will give you some comfort food to eat while you're snowed in.
Breakfast:
Caramelized Onion, Mushroom, and Goat-Cheese Frittata: No need to buy anything new — this calls for eggs, cream, onions, mushrooms, goat cheese, olive oil, and butter. Keep the frittata right on your countertop and just cut off pieces during breaks in your Walking Dead marathon.
Pumpkin Seed Granola: Snacks are essential for a snowstorm, and this simple granola recipe requires only six ingredients.
Lunch:
Croque Monsieur: Buttered bread, creamy cheese, and ham join forces to make the ultimate snow-day sandwich.
Baked Apples With Gorgonzola and Figs: Mario Batali's recipe is a little sweet, a little fatty, and vaguely healthy.
Pan-Seared and Roasted Brussels Sprouts: With just olive oil, white pepper, and white balsamic, Dan Barber's dish could be one of the easiest to make. Plus: The sprouts only have to roast for four minutes — instant satisfaction.
Dad's Macaroni and Cheese: Home Restaurant serves a good rendition of one of the most comforting comfort foods. Copy it in your home.
Lentil Salad: Surprise! Anita Lo's seven-ingredient salad includes bacon. You want to eat this.
Roasted Carrot Salad With Winter Pesto: Carrots are best when slow-roasted in the oven, and the arugula pesto can be whipped up in a blender.
Dinner — Sides:
Broccoli Soffriti: Mario Batali serves up this anchovy-spiked vegetable dish at Otto.
Maple-Whipped Sweet Potatoes: No snow day is complete without a generous heaping of maple syrup. And hey, why not add a few veggies while you're gulping it down?
Cauliflower With Pears, Sage, and Hazelnuts: Andrew Carmellini is behind this surprisingly hearty dish, which, more or less, turns cauliflower into a vehicle for butter.
Shrimp With Coconut Milk, Tomato, and Avocado Soup: If it's good enough for Eric Ripert and Le Bernardin, it's good enough for you to eat in your your pajamas.
Oranges With Roasted Beets, Hot Peppers, and Olives: It takes a while to roast beets, but it's worth the time and effort. There's not much else to do this weekend, anyway.
Braised Red Cabbage With Apples: Daniel Humm's vegetarian side is flavored with fruity, red wine. If you don't have a bottle of wine during a storm, all hope is lost.
Dinner — Main Courses:
Lasagna Bolognese: Cooking Batali's Babbo dish is an all-day activity that will cure any case of cabin fever.
Spaghetti Cacio e Pepe: This classic Italian pasta has only four ingredients, but there's a reason why it pops up on so many menus. Make an extra serving and add a runny egg for a Roman version of breakfast-for-dinner.
Soy-Braised Short Ribs: David Chang's recipe sounds more complicated than it actually is — it mostly involves patience, as the meat has to simmer over low heat for three to four hours.
Roasted Chicken: It'll warm your entire home and make it smell like butter.
Bo Ssäm: Spend the snowstorm pigging out on pork. As Chang himself would say, Fuck. Yes.
Dessert:
Chocolate Brownies: They're not on the menu at Gramercy Tavern, but they're a chef favorite.
Chocolate-Covered Banana-Crème Fraîche Ice-Cream Bar: This recipe is courtesy of Eleven Madison Park, so yes, it's a bit time-intensive and fancy. Step up to the challenge.
Linzer Cookies: Craft's buttery cookies are filled with raspberry preserves. Eat while dreaming of a white Christmas.