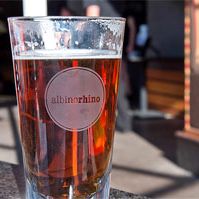 Farewell, Albino Rhino.
Photo: Courtesy Earls Restaurants
A 31-year-old Nigerian immigrant who filed a human rights campaign against Canadian chain Earls for serving an offensively named beer and chicken wings combo has been successful in her campaign, the Province reports. Earls, which has more than 50 locations throughout western Canada, but also in Colorado and Washington State, will no longer promote its "Albino Rhino" beer, and will distance itself from the name and mascot it has used for 25 years.
Last year, Ikponwosa Ero, who has albinism, filed the official complaint with the British Columbia Human Rights Tribunal, questioning the the message of Earls' "Albino Rhino beer and Albino Wings Wednesdays." She and other advocates argued that in addition to encountering regular discrimination, because most albinos are legally blind and therefore disabled, Earls house beer's name was all the more offensive. "Would you offer an Alzheimer's appetizer, or a Down syndrome daiquiri?" She asked.
Additionally, Ero noted that her family moved from Tanzania to Canada when she was younger in order to keep her safe. In certain parts of East Africa, people with albinism are hunted and attacked because of a lingering folk superstitions and rituals associating the dismembered limbs of albinos with prosperity. More than 100 albinos in Tanzania were attacked between 2006 and June of last year. Of those, 71 died.
Initially, Earls stood by the name of its beer, clarifying their position in a statement on their website, which has since been removed:
"Earls Restaurants, voted one of the 50 Best Employers in Canada, created Albino Rhino, our "house beer", 25 years ago. It was named after the white Rhinoceros and the rhyming name chosen because it was both fun and whimsical in sound and denoted something rare and special - we felt proud to have such a beautiful animal, the white rhino, representing our brand." On occasion, our Albino Rhino beer is paired with a chicken wing special, however we do not offer "albino wings".
Last week, Earls announced it changed its beer's name. "We do not believe the use of the word 'albino' reflects any intention to discriminate against persons with albinism," they wrote, and will change all of their in-house marketing and menu materials by April 24. Going forward, the beer will now be known simply as "Rhino."

Earls to drop Albino Rhino menu items in response to human-rights complaint [Province]