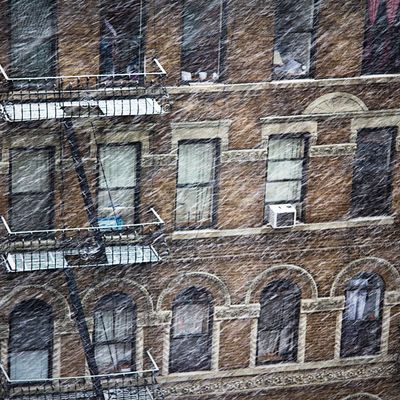 Dessert's in there, somewhere.
Photo: Steve Prezant/Corbis
Snow is falling, and if you can't decide if you should head out to eat or stay in and cook, why not just do a little bit of both and eat the weather? You'll want to take care to get the fresh stuff and heed whatever the snow equivalent of not eating plants foraged downhill from highways or train tracks is — brownstones may be lovely, after all, but you don't need to taste the rooftop tar or the tang of their gutters. If you have a snow-collecting area of your own that's unfettered by potential contaminants and also a pantry stocked with just a few sweet ingredients, well then, you also may have dessert for the next few days.
1) Snow ice cream. Paula Deen's greatest, and simplest, contribution to humankind.
2) More snow ice cream.
3) Brown sugar and molasses snow candy, Little House–style.
4) Maple syrup and butter snow taffy.
5) Maple syrup "leather aprons," served with sour pickles.
6) World War II–era snow pancakes.
7) Blender drinks. Just pack your blender with clean snow, add some kind of alcohol and and/or fruit juice, and blend.