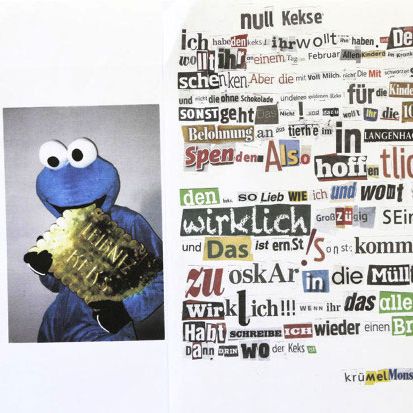 You probably heard about last month's theft of an ornamental, gilded bronze biscuit that had been hanging without incident just outside the German bakery Bahlsen's office in Hanover, Germany, for 100 years. Bahlsen's makes Leibniz biscuits, and this 44-pound model is emblematic of the company's history; so naturally, Bahlsen's chair Werner M. Bahlsen appealed to the robber through the press, offering 1,000 euros for any information leading to the gold Leibniz's safe return. But, nothing. But then, just days after the crime, newspaper Hannoversche Allgemeine Zeitung received a really weird ransom note. It was from Cookie Monster.
One side of the note was its "proof of life": Someone in a Cookie Monster costume holding the bronze Liebniz. "I have the biscuit!" the note read, in classic ransom note cutout letters. "You want it and therefore you want on one day in February, to give biscuits to all the children in Bult Hospital. But those with milk chocolate, not those with dark chocolate and not those without chocolate. And a golden biscuit for the child cancer ward." Talk about demands.
(At this point, it should be noted that the real Cookie Monster emphatically denied any involvement with the theft and offered to cooperate with authorities without reservations.)
Werner M. Bahlsen appeared once more in front of the press, surrounded by yellow boxes of Leibniz biscuits, offering to donate 52,000 packages to charities. While the camera flashes went off, Bahlsen cried.
When he saw this in his lair, the "Krümelmonster" started crying, apparently, and another note was sent to the police explaining the gilded biscuit would be returned, "because Werni (Mr Bahlsen) loves the biscuit as much as I do and misses it so much he keeps crying."
Early this morning, the Krümelmonster's reign of terror came to an end, and the golden biscuit was found hanging with a red bow around the neck of a horse statue outside of Leibniz University. Focus reports police have taken the biscuit back to the lab to confirm its authenticity with tests.
Goldener Keks vor Universität Hannover aufgetaucht [Focus]
'Cookie Monster' sends 2nd note about sculpture theft [Christian Science Monitor]