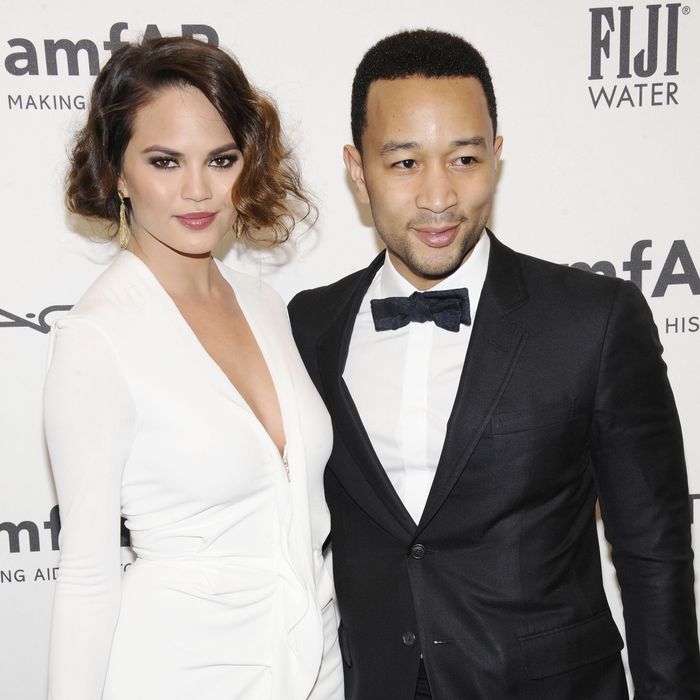 Legend and Teigen, last night.
Photo: Clint Spaulding/PatrickMcMullan.com
As if waiting tables at a restaurant weren't grueling enough, every once in a while there's a customer who refuses to even tip, à la last week's Applebee's debacle. But while many stars once worked as servers and know all too well the sorrow that is miserly customers, some never even got the chance — like Sports Illustrated swimsuit model Chrissy Teigen, whom Red Robin once refused to hire. Grub Street caught up with her and fiancé John Legend at last night's amfAR Gala at Cipriani Wall Street to talk about her relationship with the burger chain, love of greasy bowling alley food, and — what else? — Legend's custom-made bowling ball.
So Valentine's Day is coming up. Any big plans?
John Legend: We are both working on Valentine's Day. She has to work in Vegas and I have to work in L.A., but I'll take care of her. I'll make sure she has a nice Valentine's Day present. It's a man's job to do this. Women, not so much.
Chrissy Teigen: I tend to think of Valentine's Day as a man holiday, and not just because I'm a woman. He's very good at it. He's good at all holidays, but I'm also good about dropping hints.
Legend: She's a good hint-dropper.
Do either of you have experience being a waiter or waitress?
Legend: I haven't. [To Chrissy.] Have you?
Teigen: Red Robin wouldn't hire me. Their application asked questions like, "What's your highest bowling score?" I still couldn't get hired.
Legend: She couldn't pass the steroids test. She's on a lot of performance-enhancing drugs.
Are you guys big bowlers?
Teigen: At one point, we were really great bowlers. We were so hard-core that I once got John a custom bowling ball for his birthday.
Legend: It had my face on it.
Teigen: Yeah, I got John a bowling ball with his face on it, so every time he held it up to his face, there was another face.
Legend: A gift for the vain.
So what's your highest score?
Legend: My highest score was still only about 140.
Teigen: That's his highest score. Mine is probably 145, because I beat you every time.
And how often do you bowl?
Teigen: It's been a while, but at one point in time, we were going two or three times a week.
Legend: It's a good activity on tour because in any city, you can find a bowling alley.
Teigen: And greasy food and drinks. And that's all I need.
Bowling alleys are kind of germy, no?
Teigen: Oh, it's disgusting. The best ones are really gross.
Back to not getting hired by Red Robin. What is Red Robin?
Teigen: It's a burger chain.
Legend: It's like T.G.I. Friday's, but …
Teigen: How dare you! It's fantastic burgers but an emphasis on crazy concoction drinks. I really wanted to work there.
But they rejected you.
Teigen: Yes.
Where was this?
Teigen: In Washington state. In a mall. I was 16..
Well, I guess you showed them.
Legend: And now she's in Sports Illustrated.
Teigen: They still, to this day, have the best ranch dressing, and you can quote me on that one.
Legend: You've never taken me to Red Robin, baby.
There's your Valentine's Day right there.