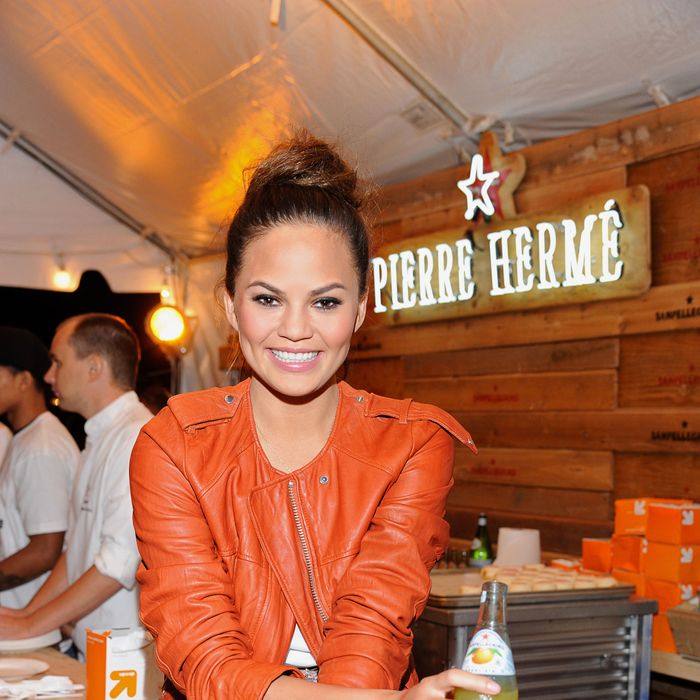 "I realized that cooking was my calming source."
Photo: Dave Kotinsky/Stringer
Models aren't known for their appetites, but Chrissy Teigen is different. "I wasn't a model that loved food," she says. "I was someone that loved food that started modeling." Teigen — who maintains her own food blog and has a special airing on the Cooking Channel — says it stems from her parents. "My dad's a big white guy … always making meat and potatoes," and, she adds, "my mom's full Thai, so I had two totally different cuisines happening in the home, and it was very cool to see, so I started getting excited." Granted, the last month has made it hard to find time: It went from inauguration to Super Bowl to Grammys," she says. And this week she's been busy promoting the Sports Illustrated Swimsuit Issue. Even with all that, she managed to find time to cook in L.A., smuggle wine into the Grammys, and find some pho in New York. Read it all in this week's Grub Street Diet.
Friday, February 8
I came in on an early flight from JFK and landed at LAX. Here's my thing: I fucking love airplane food. I think it's adorable. I think when Top Chef did that challenge where they made them do mini meals at the airport, I was most excited by that. For some reason, I love it. I think it's adorable. Even if I just had dinner, I'll always have food on the airplane. And Delta does quesadillas now on their planes, so I had a quesadilla.
You know, John [Legend, Teigen's fiancé] is jetting off to his meetings and everything. But when I landed, I saw his trainer, Malcolm, who is my food-partner-in-crime. He's a trainer. You would think he's very healthy. But as soon as I land, we're like, "Where are we going right now?" John's younger brother Vaughn was in town, so we hit the grocery store. It's nice because in New York, grocery stores are not a fun trip. You're like, Oh shit, I have to carry all this back. Can I get a cab at this time? In L.A., you just park, so I get to enjoy my grocery-store experience.
I'd never made salmon before so I decided to do salmon. I had this wonderful Ina Garten recipe for grilled salmon with dijon, soy, and garlic. And it actually made me love salmon — I always found it a little dull, which is crazy because I'm from Seattle and we're big salmon fans. But it was wonderful. It was awesome. And I made my little signature spinach salad.
I was always the most nervous child for some reason. I was very anxious and couldn't sleep at night and was always thinking about something. I realized that cooking was my calming source. And as I grew older, it became a thing where I could drink wine and just enjoy being at home because I travel so much.
Saturday, February 9
I have the same breakfast every morning. It's two eggs over easy, turkey bacon, and half an avocado sliced up into this crazy … it is the most unappetizing thing you've ever looked at, but I love it. I pour Cholula all over it.
Then we did a MusiCares event where I started feeling really sick. I was sick beforehand. It wasn't because of their food, which was stuffed chicken breast with spinach. It was delicious, but then I went back home and decided I had to call it quits. I wasn't drinking, so that's how you know it was bad.
Sunday, February 10
This was Grammy day. I had my typical breakfast, but I got a message from Ariel Meredith, one of our fellow models. She just knows me, and I love her. She was like, "Hey girl I hear you're sick!" Because of course I was tweeting about it. She gave me a little recipe for a hot toddy, which included whiskey and lemon. It was your typical cold remedy but with whiskey. I had that early.
Later, we had the Clive Davis party. It was a steak-and-potatoes type of event. I think there were asparagus bundles. I had a couple bites but was still sick. I did have some more drinks and that helped. As soon as I have my first glass of Champagne, it's over. I think I'm severely allergic to Champagne, but I can't turn it down. Usually I try to stick to tequila and red wine.
To the Grammys. I had a Starbucks cup full of red wine. That carpet is nuts. And then you just know going in that you're not going to be able to drink at the Grammys. Everyone thinks everybody is partying. But there's nothing. There really is nothing unless you're performing and you have your rider or something.
And then I had to fly out on the red eye from the Grammys, so I went back to the airport. I had one of my favorite salads in the world, which happens to be this prepackaged Wolfgang Puck Chinese chicken salad. I usually get two salads so I can get two packs of dressing — it's packaged with the dressing. And it has wontons, which make everything better. If it didn't have the wontons, I'm not sure I'd get it
And then I got on that plane and they served personal pizzas, which is a first for an airplane. I was so Xanax'd out that I just kind of drank the pizza. It was very cheesy.
Monday, February 11
Landed early Monday morning. We had Letterman, so I got my makeup done. I think I had a quick tequila shot before the show. It just settles the nerves a bit. I've been doing this for years now, but my anxiety gets the best of me. I also had a turkey sandwich at Letterman and some fruit, then I went to a fitting at Vera Wang.
Later, I went home. I've been on this ramen hunt, but I'm temporarily staying in the financial district and I couldn't find good ramen down there for delivery, so I got some pho noodle soup with steak and Vietnamese spring rolls.
Tuesday, February 12
Fashion Week had started, and I had "The Dan Patrick Show," so I just had coffee. I'm not a coffee drinker. Coffee doesn't do anything for me. It doesn't awaken me. If anything, it makes me a little nauseous. But for some reason, I had coffee and a double espresso.
Then went straight to the Vera Wang fashion show and then I went to Fred's at Barneys on the ninth floor. I had a crab and shrimp salad with garlic mayonnaise dressing, like an aioli. And a glass of white wine.
I had one of those Blueprint green juices — not to diet. I thought maybe mentally at least it would make me feel better. Like, Oh my God, I'm drinking kale and now I'm healed? It didn't work.
We went to the Sports Illustrated launch party at Crimson, and we just had some desserts and s'mores. More than anything we had more tequila.
Then it was back on a plane, headed to Las Vegas. There was this white lasagna that I barely remember. It was Parmesan-crusted, kinda crazy.
Wednesday, February 13
We had an early day. I had a double Bloody Mary. It was a splash of "bloody" and a lot of "Mary." Then I had two eggs, an avocado, and regular bacon.
And I had a Powerade, which I'm still continuing to drink, thinking it's going to do something and heal me magically.
My sister actually lives here in Vegas, so I'm looking forward to grabbing some Thai boat noodles with her when I'm done. Thai people, we make the dirtiest noodles. They're dark. It's fantastic. You don't even want to ask what's in them. You'll be totally turned off — you just eat them with a smile.