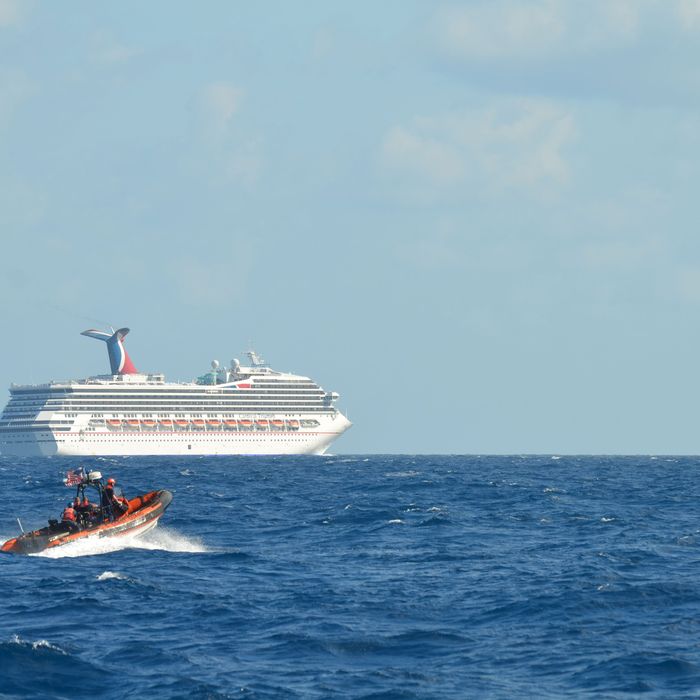 Long lines for burgers! Spewing toilets! It's the worst McDonald's employee vacation ever.
Photo: Courtesy United States Coast Guard
Up to 500 of the 3,143 passengers aboard the disabled Carnival Triumph cruise vessel in the Gulf of Mexico are fast-food "franchisees and executives from the Houston area," CBS Houston reports. The stranded ship is being towed by two tugboats and is expected to reach port in Alabama sometime tomorrow. In the meantime, passengers have been sending reports to family members describing four-hour waits for hamburgers; elsewhere, there's news of overflowing toilets and "water and feces all over the floor," which, taken together, is really grim, but also certainly represents the absolute worst nightmare any McDonald's franchisee would ever expect to have.
We hope everyone makes it to Alabama safe and sound.
Cruise From Hell Will Be Pulled Ashore Very Slowly [Daily Intelligencer]
Hundreds Of Houston McDonald's Employees Reportedly Among Passengers On Stranded Carnival Cruise Ship [CBS]
Befouled cruise ship scheduled for Thursday docking [CNN]