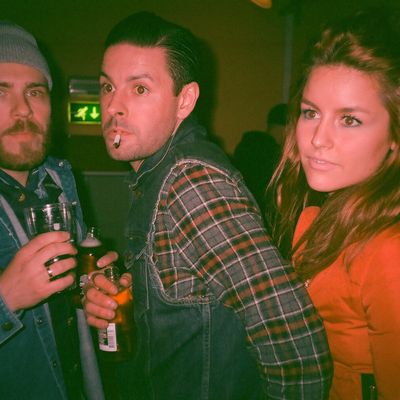 The scene at Kåken, in Stockholm. It might as well be Williamsburg.
Photo: Moch
There's been plenty of talk about the influence Nordic culture has had on New York's bars and restaurants, brought up yet again in today's Times review of Swedish chef Fredrik Berselius's Aska. But while New Yorkers fetishize the wilds of Sweden, it turns out Swedes find themselves similarly attracted to the gritty-yet-crafty ideals of Brooklyn. In fact, as one Stockholm resident told me recently of his town: "You can just slap the word 'Brooklyn' on anything and every fucking hipster will buy it."

"Brooklyn is the center of cool for Swedes right now," a customer at the speakeasy-ish bar Kåken in Stockholm explained recently over sips of a Park Slope Collins. "People here think it's the best place in the world." Of course, Sweden isn't only country currently enamored with the county of Kings. You'll remember the Times report last year on France's fascination with all things "très Brooklyn," and the subsequent backlash from New Yorkers upset with the de-authentication of their stomping grounds.
But the "très Brooklyn" trend of Paris is predicated on food trucks. In Sweden, Brooklyn the brand is more far-reaching: cocktails named after neighborhoods, blondes in Brooklyn cycling caps, and the ubiquity of Brooklyn Lager.
Swedes say their country's current relationship to the borough has been paved by a long-standing vision of New York City as an arbiter of culture. According to Henrik Evrell, the founder of the Stockholm-based branding firm Seventy, Swedes began to look toward Brooklyn — rather than Manhattan — around 2008, when a renewed interest in farming, handicrafts, folk music, and local food was born during the financial crisis.
"The desire for authenticity and a back-to-the basics attitude caught on in Sweden in particular," he says. "People started going fishing and making their own sausages. Many people associated these things with Brooklyn, which is an alternative to the luxury of Manhattan." Banker chic is out out, farmer chic is in.
The "Brooklyn" that Swedes obsess over is the same idealized Artisanal/Urban Lumberjack aesthetic that is all too familiar to native New Yorkers. In Stockholm, there is, for example, the bluntly named Bar Brooklyn, a dive bar modeled after bars in Williamsburg, which was recently purchased by the Swedish music venue Debaser. Meanwhile, at the pop-up restaurant Niklas, a sister business to Kåken, chef Niklas Ekstedt chose "Brooklyn" as his 2013 theme, designing a menu of locally sourced food served at communal tables.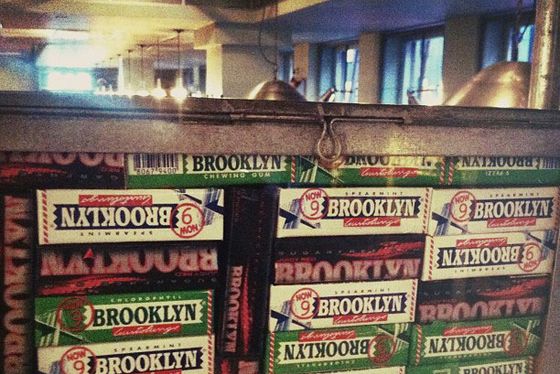 Brooklyn signage at Nikas.Photo: Niklas/Instagram

"We try to explain our Brooklyn theme by saying it's a cultural melting pot, a mix of Asian and European flavors with local ingredients," said Mathin Lundgren, Niklas's general manager. Like all things reinterpreted, it isn't quite what you'd really get in Brooklyn, but it isn't far off: You might start dinner with a Korean pork belly bun appetizer followed by buffalo mozzarella pizza and apple crumble for dessert, washed down with a Brooklyn Boys Club cocktail or, naturally, a Pickleback.
And then there's Brooklyn Brewery, which is currently building its first non-U.S. brewhouse in Stockholm, called New Carnegie. Brooklyn Brewery is already widely available in Sweden: By September, Brooklyn Lager is expected be stocked in 100 percent of the country's state-run liquor stores, according to Joakim Losin, the managing director of New Carnegie. In the U.S., meanwhile, it's only available in 25 states.
"Brooklyn and Brooklyn Beer have become the preeminent symbols of hipster culture in Sweden," says Evrell, the branding expert. "It's not about the beer itself so much as the lifestyle you want to be associated with."
Steve Hindy, Brooklyn Brewery's co-founder, says the Swedish explosion happened organically. After debuting Brooklyn Lager in Sweden in 2006, the country quickly became the company's second largest market after New York City out of the 21 countries where it is currently available. "It's quite amazing," Hindy says, seeming genuinely surprised. When the new brewery — a partnership between Brooklyn Brewery, Carlsberg's Swedish importing division, and Swedish brewery D. Carnegie & Co. — is completed, the group will brew an entirely new brand of beer, New Carnegie, in addition to Brooklyn flavors exclusive to Sweden.
Meanwhile, Brooklyn Brewery is looking to solidify its brand — and that of its home borough — even more. The second annual "Brooklyn, Sweden" music festival, slated for later this year, will unite Brooklyn bands with Brooklyn food and art, according to Claire Moyle, the company's export coordinator. (Last year's event brought together acts like Cults, the Hold Steady, and Blonde Redhead.)
All the best subversive brands have a short shelf life, and at the moment "Brooklyn" runs the risk of becoming too mainstream and thus, not cool. At least one hot new restaurant has already shunned Brooklyn Brewery's beer. Jon Widegren, the owner of Flippin' Burgers, an American-themed restaurant in Stockholm that opened in March of 2012, chose not to stock the brand. "I feel it is a bit overexposed," he says. "You can find it in every other restaurant."
But Flippin' Burgers does stock one American beer on tap that's new to Sweden: Pabst Blue Ribbon. "It's funny because it's a trendy beer but I didn't have a clue," Widegren says of the choice. "All of a sudden we stocked it and people only wanted to order that — they think we're making a statement."