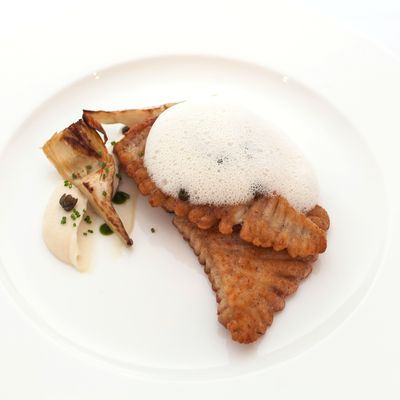 A student-made skate dish.
Photo: Phil Mansfield
Chef Paul Bocuse has a lot to celebrate this week: On Monday, he turned 87, and today, a restaurant opened in his honor. The Bocuse Restaurant, in the space that formally housed the Escoffier Restaurant, will serve French cuisine prepared by students, and it's notably more casual than its predecessor. There will be no tablecloths at lunch or dinner, and even better, no dress code. But just because it's less formal doesn't mean these students are skimping on service — expect tableside spirit tastings, cheese and wine pairings, and frozen desserts prepared instantaneously via a liquid-nitrogen ice-cream machine (wow!). And if you have a few too many "Crêpes Suzette" cocktails, chef Bocuse will keep a watchful eye on you: Photographs of him line the entryway, there's a portrait of his face in the private dining room, and wall sconces are topped with small porcelain figurines of Bocuse. The students have to look at "numerous" photographs of him in the kitchen, too. It's a little much, but if the food lives up to Bocuse's standards, you're in for a great meal.
The Bocuse Restaurant, 1946 Campus Drive Hyde Park, NY, (845) 471-6608