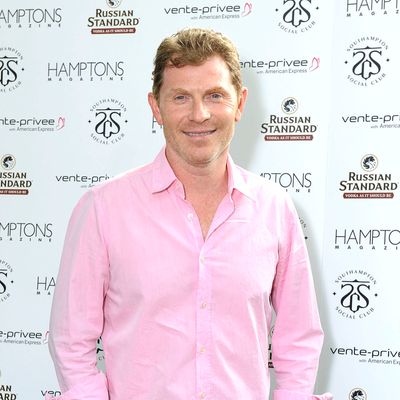 Bobby Flay may be looking to relocate the restaurant.
Photo: Eugene Gologursky/Getty Images
The 22-year-old Mesa Grill in Union Square was scheduled to close today, Commercial Observer reports, but has been given a "90- to 120-day extension" on its lease. The adjacent 2,200-square-foot clothing shop Arden B has already closed, and realtor Douglas Elliman says potential lessees have the option of taking one or both of the spaces. So where does that leave Bobby Flay's groundbreaking restaurant?
"We've been there for 21 years and had a bunch of leases," the chef and Food Network star told Grub Street last May. "We hope to stay there." At the time, it was suggested that the restaurant would move to midtown, closer to Flay's Bar Americain.
Meanwhile, Douglas Elliman vice-president Joseph Aquino says they are fielding a few offers for the former restaurant space. While not identified by name, Aquino tells the Observer that the contenders are "nationally familiar names that 'have come out of the woodwork from Florida' and other points outside New York."
This morning, however, Grub Street reached out to Bobby Flay, who says the situation is more complicated. "It's not 90 days. I've had several conversations with our landlord and we agreed to extend the lease through the fall." The chef says he's most concerned with looking out for his employees. "One way or another," he says, "Mesa Grill will survive."
"It may be better to relaunch Mesa Grill in a new location," Flay continued, adding that he had looked at retail spaces in midtown and downtown. "It's hard to open downtown when everyone is asking $300 a square foot," he said. "No restaurant can expect to pay that and make a profit, so what we're seeing is a lot of national chains coming in. They open big and operate these restaurants at a loss, but it's such great advertising for them to be right there on Fifth Avenue. Even my landlord said it: 'Bobby, look around. You're the last big restaurant on lower Fifth.' This is how real estate works — hopefully, we'll be able to make another deal and stay."
"Welcome to the New York restaurant real estate wars," the chef said. "You know what? That would make a good show. Maybe you'll see that on the Food Network in two months."*

Douglas Elliman Markets Fifth Avenue Stores Vacated By Arden B., Mesa Grill [Commercial Observer]
Earlier: Flay Says Mesa Grill Might Not Be Moving After All
*This post has been updated with new information.