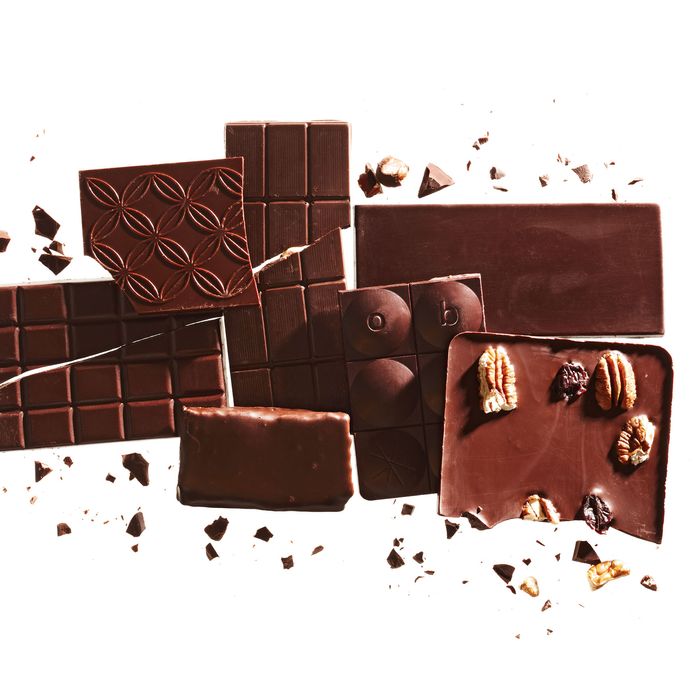 Photo: Victor Prado/New York Magazine
This February 14, you might want to resist the heart-shaped charms of the Whitman's Sampler. To truly experience the pure, unalloyed taste of good chocolate (or "fine-flavor chocolate," as the cognoscenti call it) and to really impress the chocoholic in your life, we recommend the bar form. No, we don't mean the ones from the Korean deli or the office vending machine. We're talking single-origin, bean-to-bar, and stratospheric cacao content (or, for the health-crazed, "raw"). Mast Brothers pioneered this once Eurocentric movement locally, but it's no longer the only game in town. Here, a curated selection of homegrown new-wave chocolate for the Hallmark holiday and beyond.
1. Raaka Virgin Chocolate
71% dark with sea salt
This Clinton Hill bean-to-bar outfit's iconoclastic thing is "cooking" low and slow—at 140 degrees rather than the standard 220 to 250—like Texas brisket barbecuers. This way, they claim, you can taste the unadulterated flavor of the bean without going raw. The result: a bar so smooth and shiny you can practically see your reflection in it; a deep, dark, mysterious flavor with hints of cherry; and a finish as long as a David Foster Wallace footnote.
$9; at Whole Foods.
2. Cacao Prieto
Pecan & Sour Cherry
Daniel Prieto Preston, the rather mysterious J. Peterman-esque dude behind this Red Hook factory, does it all: He grows the cacao pods on the family farm in the Dominican Republic and ships the beans to Brooklyn, where he roasts, grinds, conches, tempers, and turns them into 72 percent dark chocolate. The bars are beautifully balanced with a silky mouthfeel and a finish that won't quit. For something with extra pizzazz, try the pecan-and-sour-cherry bar that eats like a fancy-pants Chunky.
$10; 218 Conover St., nr. Coffey St., Red Hook; 347-225-0130.
3. Antidote
77% coffee and cardamom
Long Island City's self-described "chocolate empress" Red R. Thalhammer, whose motto is "health through pleasure," would like you to think of her product (a blend of raw and roasted beans) not as candy but rather superfood. But, hell, you'd want to eat this stuff if it was as bad for you as a movie-theater-­concession-size Butterfinger.
$6.75 at BuonItalia, 75 Ninth Ave., at 15th St.; 212-633-9090.
4. Gnosis Chocolate
Hazelnut gratitude
Holistic health counselor Vanessa Barg began making raw chocolate for clients
and has since opened a kitchen in Long Island City. Her functional-food approach, which entails (barely) sweetening her bars with coconut-palm sugar and infusing them with everything from ginseng to hemp seeds, has earned her shelf space at health-food stores everywhere. The Gratitude bar contains hazelnuts and the Peruvian fruit lucuma, which tastes faintly of sweet potato.
$7; for locations, see gnosischocolate.com.
5. Fruition Chocolate
Signature 66% dark chocolate
This bean-to-bar Catskills operation was founded by Bryan Graham, who began his career as a young assistant pie-baker in his grandmother's upstate kitchen before going on to run the pastry program at Woodstock's Bear Cafe and then chucking it all for chocolate. At 66 percent cacao, his signature bar has a fruity aroma, a creamy texture, and a nice, full flavor with a winey, tangy finish.
$8 at the Meadow, 523 Hudson St., nr. Charles St.; 212-645-4633.
6. Fine & Raw
Cacao truffle bar
Agave-sweetened and coconut-oil-enriched, this intense and fudgy confection is part bar, part truffle, and all "raw" (dehydrated, rather than roasted, at a temperature not meant to exceed 118 degrees). It's made with Ecuadoran cocoa paste, but founder Daniel Sklaar plans to switch to bean-to-bar production at the factory and shop he opened two months ago around the block from Roberta's.
$7; 288 Seigel St., nr. Bogart St., East Williamsburg; 718-366-3633.
7. Mast Brothers
Chuao
Rick and Michael Mast transformed New York chocolate-making by roasting cacao beans rather than purchasing premade chocolate. For the ultimate ­chocolate-geek impact, we recommend the limited-edition Chuao bar, made from cult Venezuelan beans, then aged for over a year—partly to let the deep, nutty flavors mellow, and partly to heighten the anticipation.
$12; 111 N. 3rd St., nr. Berry St., Williamsburg; 718-388-2625.
See Also: The Complete Valentine's Day Playbook
*This article originally appeared in the February 11, 2013 issue of New York Magazine.