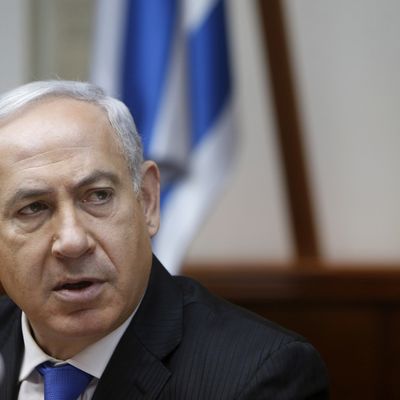 "Who used the scooper last?"
Photo: Ronen Zvulun/Getty
Dude, that's a lot of literal and figurative Rocky Road: In the midst of increased scrutiny and the implementation of austerity measures, it seems as though the prime minister of Israel has been eating an unhealthy amount of expensive ice cream.
News that the prime minister had an agreement with an ice-cream parlor down the street to supply his residence was reported first last week in a Hebrew newspaper, and has quickly become emblematic of politics on a meta-level, according to the Times. Prime Minister Netanyahu apparently went in on pistachio the most frequently, sometimes carting off "6 ½ to 8 ½ pounds" at a time; Mrs. Netanyahu liked French vanilla the bestest. (It's really only a matter of time before someone combines the two flavors into a commemorative and refreshing special.)
After the binging was uncovered, representatives from the government announced that the standing order for the frozen stuff had been canceled, and the ice-cream parlor's owners were quick to point out the Netanyahus liked to order fruit sorbets, too, in addition to the full-fat goods. Over the weekend, however, Haaretz got to the bottom of the bowl, sprinkling its op-ed with a laundry list of Netanyahu's covered expenses. "Is the prime minister's salary so low that he can't afford to buy his own ice cream?" It asked.
Uproar Over Netanyahu's Ice Cream Is Welcome in One Parlor [NYT]