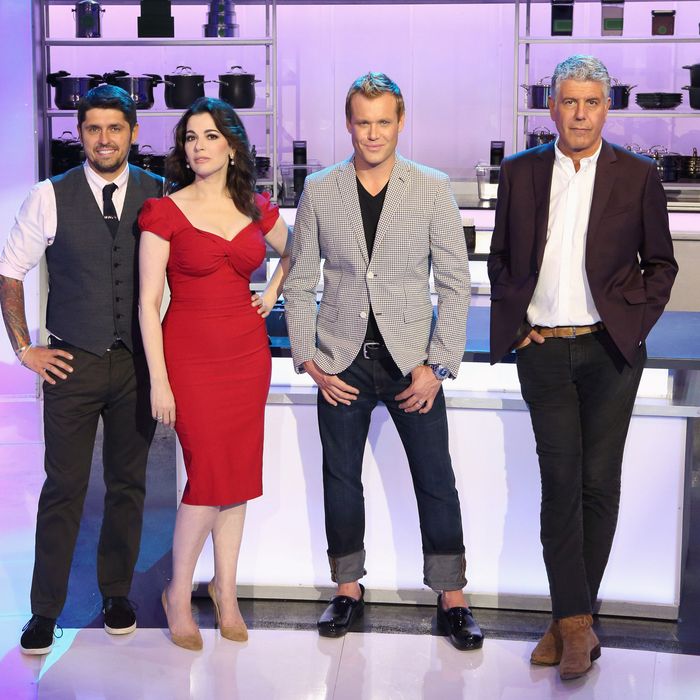 Why aren't any of these people smiling? (Ludo's grin does not count.)
Photo: Craig Sjodin/ABC
Andy Greenwald writes an essay for Grantland that basically tries to sink the unsinkable Anthony Bourdain and excoriate all of the benignly conspicuous conceits of ABC's show The Taste, described as a "a bland, underseasoned mess" that's overrun with "yoga-bowing amateurs" and "deluded Capoeira instructors who make 'food for awesomeness.'" (Greenwald also comes out here, it should be noted, against dessert as a legitimate dinner course.) The show is predictably awful, he writes, though Nigella Lawson is great, and, also, no one will ever dislike Nigella Lawson. Meanwhile, co-hosts Ludo Lefebvre and Brian Malarkey are nonstarters who don't do much to offer culinary expertise or entertain viewers, but worst of all is Bourdain, described here as a once-great "knight-errant of good taste," depicted "on a garishly lit soundstage, defanged like an aging circus lion" and a shadow of his former self up high atop a pyramid scheme of supreme boringness.
Although Greenwald shouts out Chopped and Top Chef as still somewhat engaging food television — the latter show doesn't feature Tony, but nonetheless is where the relict "Bourdainian ideal is best expressed" — this is really just pot-stirring disguised as butchery. Will calling out the former chef now do anything to diminish his audience?
Oddly, the ongoing and sea-sickening Guy Fieri debacle supplies a newish, somewhat wonderful precedent for takedowns to be better for continued business than good reviews. The Taste, which got off to a good start last month, really needs all the help it can get, because we're not only living in the age of Peak Cheftestants, but also because the old culinary competition TV show superstructures — elimination rounds and "quickfire" challenges — are wearing thin, and are increasingly rickety with viewers. Maybe any publicity will be good publicity?*
Eat Bray Love: The corruption of Anthony Bourdain, the return of Emeril Lagasse, and the state of food television [Grantland]
Earlier: The Taste Is Off to an Appetizing Start
*This post has been edited throughout.