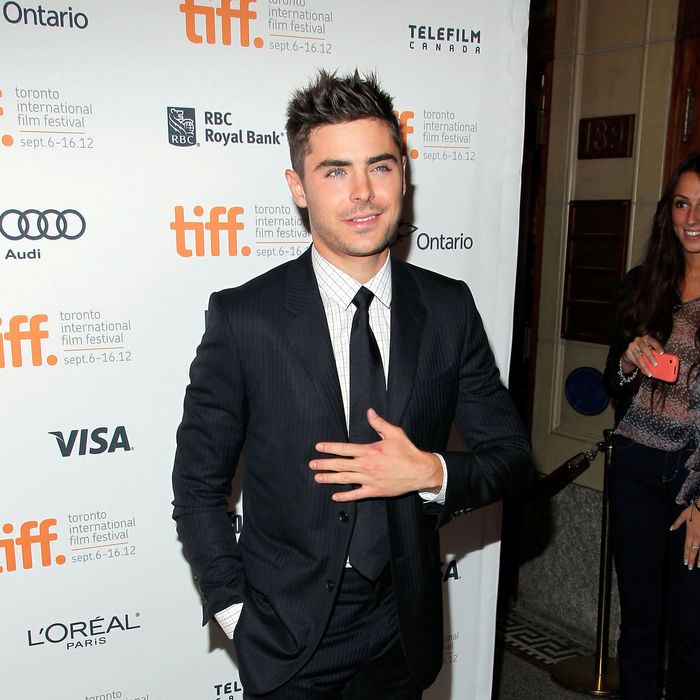 Body by thrice-cooked bacon.
Photo: Jemal Countess/Getty Images
Those stars that didn't fly off to St. Barts for the New Year spent the first week of 2013 eating and drinking in freezing-cold New York. Zac Efron warmed up with spicy food at Mission Chinese, Courtney Love sipped tequila fireside at the Electric Room, and Gwyneth Paltrow chowed down on shrimp tacos at La Fondita in the Hamptons. See how the rest beat the cold straight ahead in our weekly roundup of celebrity dining.
Bemelmans Bar: Charlie Rose sat at the bar with two hot blondes. The trio arrived around midnight and left at 2 a.m. [Page Six/NYP]
The Electric Room: Courtney Love played an impromptu set at the Dream Downtown on Saturday. She drew a crowd as onlookers took pictures and tweeted. After her performance, she drank DeLeón Diamante Tequila near the fireplace until 3 a.m. [Page Six/NYP]
La Fondita: Gwyneth Paltrow ate shrimp tacos while dining with three children (presumably, at least one of whom was hers) at the Amagansett restaurant. [Page Six/NYP]
The Lamb's Club: Ryan Seacrest ducked in and out of the Times Square restaurant with girlfriend Julianne Hough in attempts to stay warm during his New Year's Eve broadcast. Topher Grace and Mario Lopez also hung out at the restaurant where, after midnight, a female diner threw 800 one-dollar bills into the air. [Page Six/NYP]
Le Cirque: Martha Stewart rang in the New Year with Champagne and crème brulée with her nephew and friends. Woody Allen and Soon-Yi Previn were also at the midtown restaurant Monday night. [Page Six/NYP]
Lure Fishbar: Erin Heatherton was spotted with a tall, dark-haired man in Soho Monday night. All signs pointed to romance. [Page Six/NYP]
Mission Chinese Food: Zac Efron ate with friends at the buzzy Lower East Side Chinese spot. After a sighting at similarly no-frills East Village pub One and One in December, it's quite possible the actor endured a two-hour wait just like the rest of us. [Page Six/NYP]
Nick & Toni's: While Emma Roberts ate with her mother at one table, Gwyneth Paltrow, Chris Martin, and kids dined at another inside the Hamptons restaurant. [Page Six/NYP]
Pastis: Katie Holmes ditched Suri for a New Year's Day meal out. She shared french fries with a man who might have been her bodyguard. [Page Six/NYP]
Rubirosa: Lindsay Lohan ran into Matt Dillon at the Nolita pizza place. They met while filming Herbie: Fully Loaded way back when. [Page Six/NYP]
The Stand: Adrian Grenier brought an entourage of guy friends to dinner this week. They had drinks and truffle mac and cheese before heading downstairs to catch comic Dante Nero's set at the restaurant and comedy club. [NYDN]