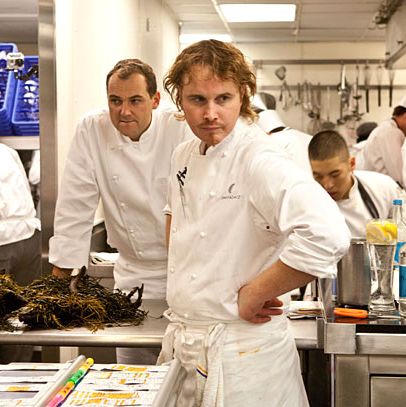 Daniel Humm and Grant Achatz: not actual tyrants.
Photo: Jed Egan
"The meal felt like a form of torture," writes Corby Kummer in the February issue of Vanity Fair. But he's not referring to Guy Fieri's Times Square restaurant; he's recounting his meal at the French Laundry. In "Tyranny — It's What's for Dinner,", Kummer argues that the world's most celebrated restaurants are becoming increasingly rigid in how they treat customers, and Graydon Carter agrees. To these two, it's almost criminal that Per Se and Alinea serve multiple courses, cost hundreds of dollars, take hours to finish, and don't allow diners to ask for substitutions. (Carter's restaurants, on the other hand, are so relaxed that you usually need a special phone number and at least a B-list celebrity on your arm to score a table — but hey, at least you can get your salad dressing on the side!) Kummer believes that Chicago's now-closed Charlie Trotter's is the root of the problem that's making a generation of young chefs "no longer willing to take orders" from the one percent.
Kummer says that it's wrong to view chefs as artists when their jobs revolve around pleasing "clients." He's upset that "a diner's pleasure is secondary," and wants food cooked how he sees fit. It's understandable if, on a personal level, Kummer doesn't like tasting menus: They're rigid, lengthy, and certainly not for everyone. But they're not supposed to be. If the "new" fine-dining experience excludes free choice in exchange for chefs taking risks and carving thoughtful narrative arcs out of meals, that serves a greater purpose. Yes, dishes can at times be confusing, ostentatious, and painfully small, but this style of dining enables both chefs and willing diners to experiment. Treating food as art, and chefs as celebrated artists, encourages innovation as well as a culture of respect.
In the last week alone, there have been several stories about how the experience of eating at nice restaurants is becoming less enjoyable. Most of the writers agree that it's the universal obsession with gastronomic food and holier-than-thou chefs that is sucking the joy out of dining. Jolyon Helterman of Boston Magazine criticizes the "foodie hype machine," which includes everyone from professional critics to Instagram food-porn producers and whiny Yelpers. He says that the nonstop buzz is "destroying the soul of dining out" and causing people to lose sight of the big picture. And since "we're suckers for anything over-the-top" (a foie gras grilled cheese gets more "Likes" than a kale salad), chefs are in turn creating menus filled with rich foods and complicated themes, like Eleven Madison Park's $195 sixteen-course Gotham-themed blowout.
The "foodie backlash" isn't new — Pete Wells lamented tasting menus in October, and Guardian's Steven Poole mocked people who cried on elBulli's last night — but it's picking up momentum. And apparently, this isn't just impacting overweight and overindulged Americans. People in Australia and England are annoyed, too. In the Sydney Morning Herald, Damon Young writes that worshipers of "the foodie church" take eating too seriously. Heirloom this and handcrafted that have produced a "food as religion" mindset that's a "mirror for our own self-pleasuring."
Over at BBC News Magazine, Will Self shamefully reports that Brits are spending more on food than ever before and asks his countrymen to "throw up our very obsession with food." Why is this the international culinary resolution for 2013? The argument that food is merely about taste (which Kummer points to at the end of his article) is stale. Cooking is a creative outlet through which we socialize, learn about other cultures, and connect. It can certainly be an art form.
Kummer predicts a long, bloody battle for power between chefs and diners. "Even as a new army of fresh-faced Stalins prepares to spread tyranny across the land, at recent dinners at Noma, Next, and even Eleven Madison Park, I saw the seeds of, if not democracy, then perhaps a limited attempt at glasnost," he writes. Okay. Stalin murdered 20 million people, and at worst, Thomas Keller gave Kummer a tummy ache.
Nobody is being strapped to a chair and forced to eat at these fine-dining establishments; it's a luxury to be able to afford a tasting menu. And if it's a fancy meal that someone wants, there are lots of other options out there. Diners are smart and in control — they know what they're getting into when they go for a multi-course feast. And if a chef-dictator serves up something they don't like, there's always the next meal.
This post has been updated to include a link to the Vanity Fair story.
Tyranny-It's What's for Dinner [VF]
Tweets, Shoots and Leaves [Boston Magazine]
Talk about food should skip the bulldust [Sydney Morning Herald]
A Point of View: The never-ending culinary merry-go-round [BBC News Magazine]
Nibbled to Death [NYT]
Let's start the foodie backlash [Guardian UK]