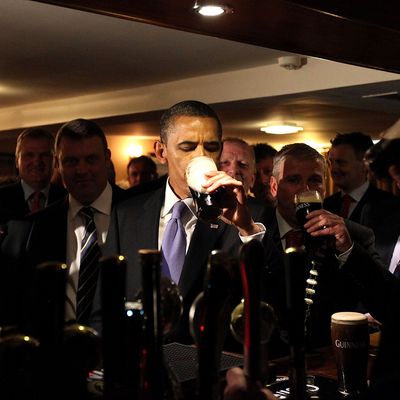 It's the American way.
Photo: Getty Images
Let's be honest: The Presidential Inauguration on Monday is really just a highbrow excuse for day-drinking. (Bonus: Since Monday is Martin Luther King Jr. Day, plenty of people don't have to work.) Festivities kick off at 9:30 a.m. and go until 5 p.m., and if you're a true American, you'll tune in and toast a few drinks to Obama's second term. Fortunately, diligent bars around town will host Inauguration watch parties, so go congregate with fellow citizens and support the economy by buying patriotic drink specials. There aren't many days of the year when it's appropriate to belt "Born in the U.S.A." with total strangers.
Creole Restaurant and Music Supper Club: This lively bar's $5 drink specials include the Obama-Tini: a red, white, and blue drink made with vodka, peach schnapps, Grenadine, and blue curaçao. The Obama Swag's got Jameson, spiced rum, ginger ale, pineapple juice, and more peach schnapps.
Cocktail Bodega: The Lower East Side spot has created a drink special that's simply called "the Obama." It's a mixture of Jameson, brown sugar, banana, fresh-squeezed orange juice, and lemon juice. The bar's also serving up its signature vodka-spiked smoothies for two-for-one prices.
The Sunburnt Calf: The Upper West Side pub will serve brunch from noon to 4 p.m. $20 gets you an entrée plus four cocktails. Four more cocktails!
Ginny's Super Club: During the day, Marcus Samuelsson's downstairs lounge will serve lunch with the televisions tuned into coverage of the ceremonies. At night, the Harlem hot spot is hosting a celebratory jazz concert by vocalist Kimberly Nicole.
Soda: The Prospect Heights bar is offering $3 beers until 7 p.m. There's also a jukebox, which may come in handy if (when) the Inauguration coverage on the TV gets old.
Village Pourhouse: The dive is hosting an Inauguration Watch Party Ball. For $15, you get two cocktails or Bud Lights. Drink specials, like the Barack O'Bombs, will also be poured.
The Windsor: An elegant way to honor the president: This gastropub is having a "Toast to Obama" with $6 glasses of Prosecco.
The Gate: The Park Slope sports bar is opening early at 2 p.m. to stream Inauguration coverage. This place specializes in vintage beer, so you can expect interesting brews on tap.
508 GastroBrewery: Beer specialist Chris Cuzme is brewing the White House Honey Porter, made from wildflower honey from the state's Nature's Way Farms and accents from Centennial and Hallertau hops. A pint costs $8.
11th Street Bar: Classier than your average sports bar, this neighborhood joint is equipped with a large projection screen. There will be Inauguration drink specials as well as live jazz until 11 p.m.
Jeremy's Ale House: Head to Jeremy's, which opens at an ungodly 8 a.m., to avoid missing one second of Inaugural coverage. Thirty-two-ounce buckets of Coors cost $1.75 until 10 a.m., and they're $4 the rest of the day.
Village Tavern: The always hoppin' West Village bar won't be open until 4 p.m., but it'll blast Obama's face on its screens and sell sixteen-ounce PBR for $4.
Knickerbocker Bar and Grill: You're bound to get hungry if you sit through all the coverage. Eat oysters on the half-shell, crab cake sandwiches, black Angus steak frites, and more while you watch.
Alobar: The Long Island City bar is celebrating what makes America special: whiskey! All bourbons are half off, and the signature Bacon Bourbon Whiskey Sour (with bacon-infused Bulleit, egg whites, and maple syrup) is on $5 special through the evening.