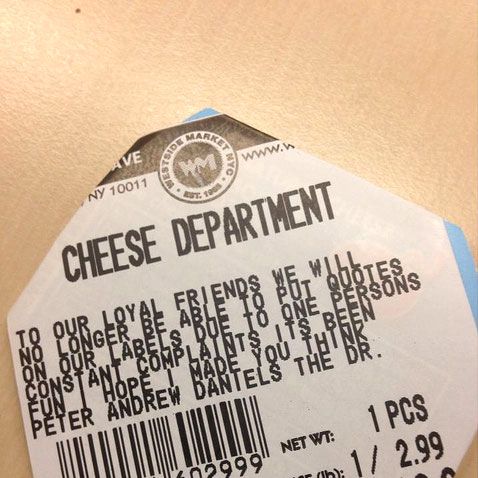 No whey: Cheesemonger Peter "The Doctor" Daniels, who warmed our cave-aged, blue-veined hearts with a series of funny notes and inspirational quotes he left on cheese wrappers at the Westside Market, has been asked to stop. Passive Aggressive Notes runs a shot of a recent cheese sticker from the store explaining that the witticisms, song lyrics, and maxims have been discontinued because of "one person's constant complaints."
In 2011, Grub Street noticed the trove of funny cheese labels, and last year, Gothamist tracked Daniels down to ask him about his work. After slapping a Bono quote on some raw sheep's-milk cheese, it turns out, Daniels immediately wanted to keep going. "I thought I would put something else that people could be inspired by," he said.
If he's really been asked to stop, we feel stinky and bleu. "I hope I made you think," writes Daniels on his last wrapper, and while it's gouda the market gave him a proper send-off, it sucks if it was only one person who found the eccentric cheese labels to be grating. Hopefully there will be no more trouble in the garden of Edam, or at least, over at the refrigerated cases inside the Morningside Heights store.
Update 1/15: Daniels, and his cheese-label poetry, have been spared.
So long, and thanks for all the Swiss [Passive Aggressive Notes]
Earlier: And Now: A Collection of Curiously Eccentric Cheese Labels