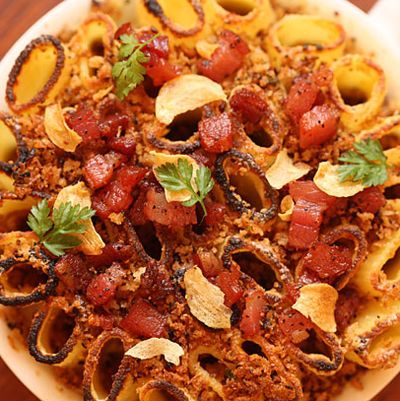 The Wells-approved macaroni and cheese at Arlington Club
Photo: Melissa Hom
Our critics sat out of the reviewing game this week, but that doesn't mean you shouldn't know Where to Eat. (And if you're overwhelmed by tasting menus, curious about the mayoral election, or wondering where to find a grocery store that makes you laugh, we've got that covered, too.) But down to business: Where did the other critics dine this week? Read on to find out.

At Arlington Club, Pete Wells reports that Laurent Tourondel's "cooking is as ingratiating as it is skillful; it wins your affection right away and then your respect." Macaroni and cheese in "powerfully smoky Gouda sauce" shoulders the weight of that dish's overwrought history, and truffled gnocchi turns out to be anything but a check-padder. The steak itself "is classic steakhouse meat, ranched in the Midwest, gorged on corn in its final weeks and dry-aged almost a month." Best pretend you never saw the sushi, which is "so out of place that it's a little embarrassing, in the way of a Hawaiian shirt bought on vacation and worn to the office." If it's seafood you want, try the "red snapper fillet in an electrifying pool of black vinegar, with ginger and chiles for added emphasis." Arlington Club "presents the old religion" of the steakhouse in an age of fashionable nonbelievers. It may have an identity crisis on its hands, "but it knows what it's doing." Two stars.
In case you haven't heard yet, Filipino gastropub Jeepney serves balut, "a partially matured duck embryo that has been poached within its intact shell." But Stan Sagner uses his review to remind you that "at $4, it's a small price for such a culinary thrill ride." With balut on the menu, most diners have to recalibrate their sense of "thrill seeking." Sagner recommends the fried tripe, served with a sweet-spicy banana ketchup, and the arroz caldo (a "heaping bowl of soupy, fragrant rice porridge" full of "ginger and garlic"). "Entrées are scaled to the appetites of sumo wrestlers," and include Pancit Malabok Negra, "a variation on classic squid-ink linguini," with rice noodles and "a nuanced shrimp romesco." For less surf and more turf, Sagner recommends the "intriguingly named" Defeated Chicken, "a rich, dark stew of pig's feet and chicken braised in a wonderfully complex adobo with sharp hints of ginger, cinnamon and soy." A "smart selection of beers" make Jeepney a place to "live a little."
Tejal Rao finds "your new Kentucky home" at Maysville, named after a Kentucky port town crucial to the history of whiskey, which this Flatiron restaurant serves, of course. "This is modern, refined, Southern-inspired cooking via Gramercy Tavern," with "a reverence for local vegetables." To be sure, the classics are here, but dishes like pork-and-shrimp-sausage with collard greens and "soft, good grits" avoid overreaching into heavy flavors. Chef Knall "uses a proper large smoker for whole birds, pork shoulders, and other big cuts, but a small box smoker to quietly get the flavor across to the fish." Rao's conclusion: "Although the small menu could be reconfigured a bit to better reflect portion size and avoid any repetition, Maysville is a restaurant to visit and enjoy immediately."
Ryan Sutton argues that Esca "is still one of New York's better Southern Italian seafood spots." The linguini with clams "isn't just great, it is as iconic as Peter Luger's steak," though the portions of crudi for which the restaurant gained famed are now too big. There are plenty of other options on the "overstuffed menu": monkfish liver ("foie gras in a fishy tuxedo"), perfectly shucked oysters, sea urchin cut with plenty of olive oil, or branzino for two, which "melts in the mouth like pastry cream." Sutton's proposition: "If Marea and Le Bernardin is where you go for special occasions, Esca, with some rough edges and fixable flaws, is where you go for dinner." Two and a half stars.
Tacos served in an upscale environment (read: not on wheels) are having a moment in New York City, and The New Yorker articulates it as such: "For every gastronome standing in line for beef-tongue tacos at a food truck in Astoria, there's a weekend warrior who just wants to unwind downtown with friends over warm chips and cold margaritas." El Toro Blanco provides what you're looking for: "A buzzy room, fresh food, and good service." Consider "the obligatory chicken enchiladas, the tacos al pastor, and the pollo en mole." Call it a backlash to the idea that a cuisine's authenticity is inversely proportional to its digs, but "formulas are what keep people flocking to [John] McDonald and [Josh] Capon's establishments."
Jay Cheshes at Time Out finds celebrity squandered at Iron Chef-er Elizabeth Falkner's "pretty generic Brooklyn pizzeria," Krescendo. "Though her blistered Neapolitan-style rounds feature excellent crispy crust," Cheshes admits, "her pizzas are rarely on par with New York's best ― standard-bearers like Motorino and Kesté." Though her Finocchio Flower Power pie ("topped in a rich gutsy mix of heavy cream, crumbled sausage, sharp provolone and braised fennel") won international acclaim last spring, it cannot overcome the lackluster pies and a "sad bunch" of appetizers (including "gray meatballs, dense as a cat's chew toy"). Desserts are another story, and Falkner shines: "A deconstructed cassata, rich with tangy ricotta cream, pistachio sponge cake and Campari-soaked cherries, is complex and delicious." Celebrity chefs must tread lightly in a minefield of expectations where patrons and food-blog readers expect them to elevate casual dining to soaring new heights.
Robert Sietsema heads to Jersey City's Chennai Flavors to find two surprises: (1) eggs are the center of attention, and (2) he's at a South Indian café on a stretch of Newark Avenue known as Little India. Ova do well in the podimas, "a cilantro-laced yellow scramble modified with a mild masala" that is "scrumptious and comforting." Same goes for kottu paratha, "a toss of shredded flatbreads and fried egg tidbits ― it's the South Asian answer to Mexican chilaquiles." Despite its reliance on eggs, "the menu doesn't so much reflect the unique regional dishes of Chennai as the entire culinary range one might see at a restaurant there," meaning you can order dosas, uttapam, tandoori roasts, and "seafood swimming in coconut milk." And of course, there's Bollywood on the TV.
At the Post, Steve Cuozzo rehashes Grub's argument against Corby Kummer's tirade against tasting menus in Vanity Fair. He reminds us that four-hour meals are "the norm at old-school spots where the pace is as stately as the tablecloths are white." Indicting chefs makes no sense, Cuozzo argues, when it is patrons who ultimately choose to dine at particular restaurants. Cuozzo pares the issue down and goes all in — not against tasting menus per se, but against a particular sort of dining experience. "For my money," Cuozzo wagers, "no matter how fine the food may be, worshipping at the chef's altar is inimical to the fun of dining out, which includes socializing with those at your table and ogling those at others."