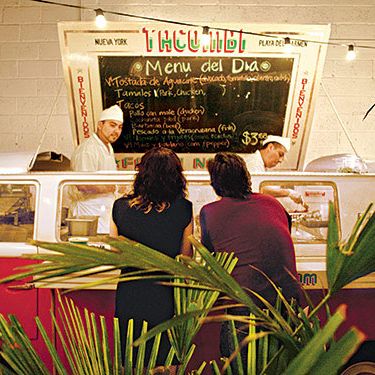 Tacombi at Fonda Nolita
Photo: Danny Kim
It's damn cold in New York this week. So cold that when you walk outside, the only things going through your mind are expletives. In your weakest moment, you actually consider purchasing a ski mask — that kind of cold. And spring is far, far away. What to do? If you can't physically escape the cold, fake it. We've rounded up the city's restaurants that make you feel like you've stepped out of fifteen-degree weather and into an exotic locale. You can't hibernate all winter; go drink some tequila and have a fish taco.
Miss Lily's
This Jamaican diner's definitely a scene, but in the best way possible. A live D.J. plays reggae jams, a beautiful staff serves up spicy jerk chicken, and the Champagne cocktails and banana pudding are so good that you'll sit put for hours — that is, if you don't get up and boogie.
Selamat Pagi
Greenpoint's new Indonesian restaurant serves seasonal dishes inspired by the island of Bali. The menu includes sweet entrées like sticky black rice with fresh mango and toasted coconut, and even banana pancakes. It's no surprise that the Van Leeuwen ice-cream folks are running the ship.
El Toro Blanco
Critics agree that the lively atmosphere is stellar at this newish Mexican restaurant, and Pete Wells even said it felt like "you might be in Santa Barbara during the last days of the Nixon administration." The food comes secondary, but the tamales and the guac are getting rave reviews. Plus: tequila. Lots of it.
Caracas Arepa Bar
Specializing in corn muffins stuffed with exotic fillings, this Venezuelan place is a great cheap-eats spot. Banana and coconut milkshakes and a sugar-cane-and-lime soda will get you in the tropical mind-set. Caracas is a crowd-pleaser, too — some of its best offerings are vegetarian-friendly.
Tacombi at Fonda Nolita
A retro Volkswagen bus functions as a taco stand inside this casual Mexican spot, which you may not know is a copy of a beachside operation in Playa del Carmen. Better yet? This is an affordable staycation: Three tacos and a glass of spiked horchata will come in at under $25.
Surf Bar
This Williamsburg tiki bar is decorated with scuba Barbie and Ken dolls, fake flowers, surf boards, and a fish tank. It's definitely more Jersey Shore than Southampton in here, but that's a good thing. The menu includes four types of chowder — New England Clam, Bahamian Monk Fish, Shark Attack, and Corn & Crab — as well as lobster bisque. Perfect for when you're recovering from the blistering cold outside.
Tommy Bahama
Yes, it's a restaurant inside the clothing-store complex better known for its bathing suits. Even still, the dining-room floor is made of reclaimed wood from the Coney Island boardwalk, and the menu includes tropical choices like coconut-crusted crab cakes, seared ahi tuna, and Caribbean rubbed mahimahi. Resist any post-drinking temptation to buy an ironic floral shirt.
El Rincon Criollo
As you walk into this Latin American spot, you'll see newspaper clippings that recount a family's journey from Havana to Corona in Queens. The waiters rock ties and leather vests, which brings a dose of class to your ropa vieja (a classic Cuban dish of shredded beef in tomato sauce).
Café Habana
If you haven't tried this Mexican corn on the cob, put it at the top of your to-eat list. The dish is worth the wait to get into this popular luncheonette, which is a take on a café in downtown Mexico City that still exists. And since it's so cold outside, you'll appreciate how cramped it is in here. Body warmth!
Cheeky Sandwiches
Bummed you can't make it to the Big Easy for Mardi Gras? You'll find one of New York's best riffs on the fried-oyster po'boy here. The brightly painted shutters, plastic curtains, and mismatched painter's stools are reminiscent of a true dive. Authenticity's key; the crusty bread comes directly from John Gendusa Bakery in New Orleans.
Calle Ocho
Step out of the Upper West Side and into Latin America at this tapas restaurant. The sprawling dining room is decorated with terra cotta and festive artwork on the walls. Lobster empanadas, duck two-ways, and seven types of ceviche round out the menu.
Hurricane Club
It's a little "unce unce" at this Park Avenue hot spot, but there's a whole section of the menu called "Island," and it boasts honey-glazed baby back ribs and crispy Peking pig. Plus, you can sip your cocktail directly from a whole coconut. Par-tay.
Cienfuegos
This tucked-away restaurant serves its rum-centric punches in family-size goblets. The Cuban-inspired small plates include croquetas oozing with cheese and ham, octopus ceviche dressed in coconut milk, and shrimp poached in rum. Of course that last one's a "house favorite."
Downs District: Jamaican Jerk Grill
Named after the district in Jamaica from which the owner's family hails, this restaurant in Jamaica, Queens, does its home turf justice. Yes, that's freshly grilled breadfruit you smell as you walk inside. Quirky illustrations of animals on the wall and a strong goat curry are tried-and-true cures for seasonal affective disorder (we think).
Macao Trading Co.
Bang for your buck: The food and drinks here are inspired by European and Asian cuisines. And after a few "Jamaican Sand" cocktails, you'll feel extra trippy. The sexed-up dark wood interior makes this a good place to make bad choices. Isn't that what vacation's all about?