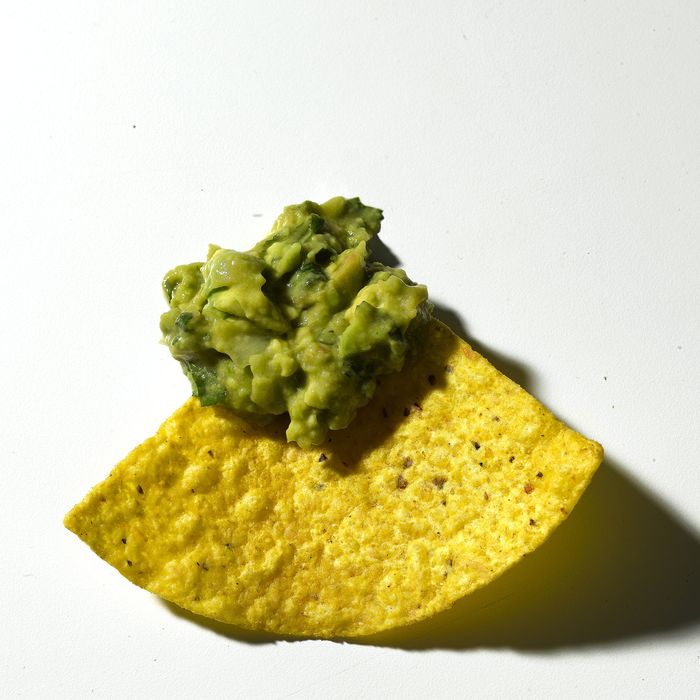 Do restaurants really make that much money off that stuff?
Photo: Rebecca Hale/Corbis
Even though Mexico has an array of vibrant salsas, complex moles, and deeply nuanced adobos, there is one dish that graces nearly every Mexican menu in New York: fresh-made guacamole. As Empellón's Alex Stupak says, "Margaritas and guacamole are the marquee products for most Mexican restaurants in the U.S." Diners love it, of course, but surely restaurateurs must love it, too: A cheap, easy-to-make dish that customers are almost universally unable to resist is the kind of high-profit product that business owners count on.
Maybe that's why many diners experience guacamole sticker shock in New York's high-reaching Mexican spots: the latest splashy opening, El Toro Blanco, charges $12 for a single order, or $24 for a double order. At Empellón Cocina, and Taqueria, it's $12. Fonda, where it's served with fresh-made tortillas: $11. Toloache, where it's served in three varieties: $13. Rosa Mexicano: $14. Dos Caminos: $14 (though you can get a crab-and-chipotle version for $18).

"Ridiculous" and 
"insane" are two adjectives used by Yelpers to describe Rosa Mexicano's price tag, while another described El Toro Blanco's as "a bit steep." Forbes included guacamole on its list of "Restaurant Foods to Avoid," warning diners to "be especially wary of eateries that make your guacamole tableside and serve it up in fancy traditional molcajete stone bowls. All that 'authenticiy' and traditional preparation comes at an added cost — a trick that restaurants use to apparently 'add value' or rather a few extra dollars to the price of an otherwise relatively basic dish."

Is guacamole really a rip-off? The ingredients are cheap: On average, a standard order of guacamole includes a single avocado. Avocados cost about $1.50 at Gristedes, and the other ingredients needed — onions, garlic, lime juice — aren't exactly luxury items. Some simple math tells you that you can put a bowl together for yourself for no more than $4, and restaurants, which of course don't pay retail costs for their food, can put it together for less.

But even though guacamole's food costs are low, there are other hidden costs that quickly add up.

For an average restaurant, owners want their food costs to be about 30 percent of what they charge for a dish. (So if a restaurant charges $20 for a dish, the original food costs were around $6.) After that, there are costs most diners never think about, like labor and payroll expense, rent, credit-card fees, insurance, the cost of tableware, and repairs and maintenance. In the case of guacamole, many restaurants dedicate a staff member entirely to its preparation. When La Newyorkina owner Fany Gerson worked as a pastry chef at Rosa Mexicano, she recalls, "They had one guy whose job was to do the prep for the guacamole all day, dicing tomatoes, onions, and cilantro. When you have an extra person just to do that, and extra waiters to prepare it," the costs add up.

Roberto Santibañez, the former culinary director at Rosa Mexicano, uses a similar system at his Fonda restaurants: He has one staff member working his dining room's guacamole station all night. "The only thing he does is crush guacamole," Santibañez says. "You have to keep up. The chopped onions, chili, and cilantro always have to be fresh." He even goes a step further and employs another staff member whose only job is to make the hand-pressed tortillas that accompany the guacamole.

Village Voice critic Robert Sietsema, as cost-conscious a critic as you'll find in New York, says "at most places, I gladly pay" the premium price for guacamole, and points out another reason restaurants push it: The main ingredient is very temperamental. Avocados ripen, and spoil, very quickly, so any product that isn't sold at the exact right moment will end up in the trash. El Toro Blanco chef Josh Capon's avocados, which come from California, are ripened by his purveyor and have to be used as soon as they're delivered. (He says the tomato that's in his guacamole has to be similarly ripe.) That freshness, of course, is also a key part of guacamole's appeal.

Part of our expectation that guacamole is expensive may also come down to the pervasive and unfair assumption that, as Stupak says, "anything Mexican should be cheap." The same diners who will fork over $23 for eggs Benedict or $40 for a bottle of wine that retails for $10, kvetch at the notion of paying more than $3 for a taco. As Gerson points out, "people have no problem paying $30 for a bowl of pasta, but if you go to a Mexican restaurant and they ask for $30 for mole enchiladas, then people [think] because it's from Mexico it should be less." Gerson adds that, "the skill it takes to make a good mole, and the ingredients and time it takes, is much more."

When you factor all of that in, $11 for a bowl of fresh guacamole and warm, homemade tortillas seems like the deal of the century. The reason that guacamole is a profit driver isn't that the markup is huge, it's that few menu items sell as consistently. "Pretty much every customer starts with it," Capon says. "It's an easy sell."