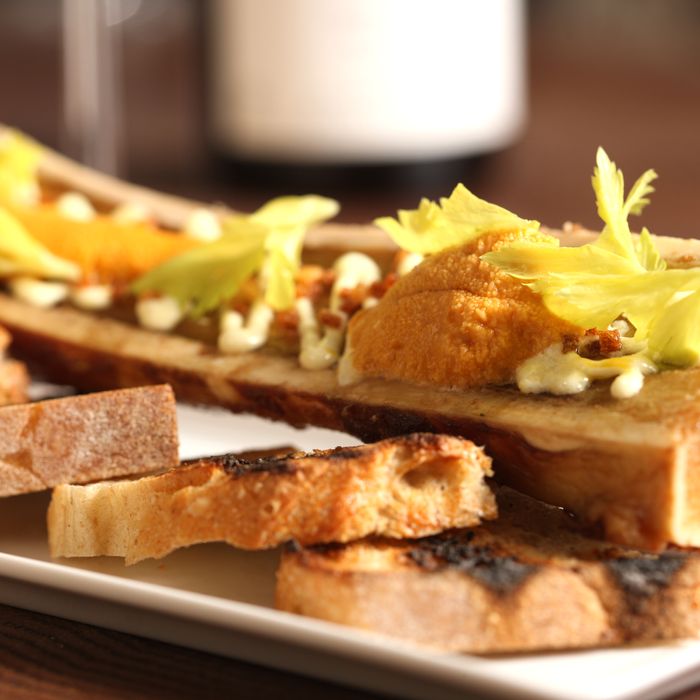 The eponymous bone marrow with sea urchin at Harold Dieterle's restaurant.
Photo: Melissa Hom
This week, Adam Platt reviewed Daniel Humm's multi-hour "homage to New York dining terroir" at Eleven Madison Park and deemed it worthy of four stars. Where did the other critics dine? Read on to find out.
Pete Wells dined on Sri Lankan cuisine by way of Staten Island's Lakruwana. Wells recommends "chopped kale mixed with coconut and stir fried just until the greens begin to relax," "fat yellow lentils stewed in coconut milk with the warming flavors of mustard seeds, curry leaves and cinnamon sticks," and "deviled chicken in a chile sauce with a balance of sweetness and spice that grew more captivating." The dishes lend themselves to tinkering, so he added numerous condiments ("a flaky pink coconut sambal; another sambal of marinated onions; and lunu miris, a chile-onion relish" he used for "screaming heat"). And in deference to advice painted on the mirror, he ate everything with his hands. "After the savory courses, desserts offer a welcome simplicity," such as yogurt "under a dark sea of honey" and mango pudding. One star.
Sirio Ristorante surprised Steve Cuozzo in some ways ("a union-staffed hotel dining room service so warm and professional") but not in others ("entrees in the $30s and a few in the $50s"). And the atmosphere is "more convivial than clubby" making "Sirio is a lovely place to while away a winter eve." The problem, Cuozzo reports, is the menu: "To call it pedestrian would be a slander on the walking millions." Bacalau, salted cod, "foolproof" seafood salad, a "no-brainer" caprese salad — "dish after dish was passionless, under-seasoned if at all, and dry on plate and palate." Unfortunately for pastry chef Janevha Gregg, her "traditionally based desserts, such as pistachio tartuffo in a crackling chocolate shell, come too little, too late."
If you find yourself indecisive at the Marrow, Stan Sagner wagers, "you can play 'pin the tail on the menu' and not lose, as virtually every dish that emerges is a pleasure." Chef Harold Dieterle's German-Sicilian heritage inspires dishes that are not for the faint of heart, such as "feathery" housemade fettucine in a "swoon-inducing cream sauce laden with chunks of roasted butternut squash and fragrant, sage-laced sausage," or the signature Bone Marrow — a riff on surf and turf with "sweet, briny sea urchin and a sprinkle of tiny brunoised cubes of fried potato for a touch of crunch amid such indulgence." The Baccala Gnudi are a bit gummy, but the Duck Schnitzel and Juniper-Braised Lamb Neck exemplify "Dieterle's talent for combining flawless execution with understated imagination." For dessert, "Apple Hand Pie is the love child of strudel and a Pop-Tart" and it works, but the "hefty hunk of densely moist Ginger Stout Cake" is worth a return trip. Four stars.
Tejal Rao suggests the fried pig ears at Salvation Taco, April Bloomfield's latest endeavor that "drafted chef Roberto Santibañez to lend a hand." It serves mostly tacos "while rooted in traditional Mexican cookery, but not really playing by its rules" by offering traditional al pastor alongside "blistered cauliflower florets and fried curry leaves on a dollop of gently curried crema, a delightful little taco with an Indian accent." Rao concludes that "this is casual drinking food, small plates to keep ordering until you're full or ready to move on to the next place."
Robert Sietsema turns in a short history of New York barbecue, with some helpful tips. For brisket, go to BrisketTown. For similar Texas-style offerings, go to the Smorgasburg cult hit Mighty Quinn's brick-and-mortar store. Fletcher's Brooklyn Barbecue "is eclectic in its smoky barbecue stylings, a combination it calls Brooklyn Barbecue," and you'll want to say yes to the slaw.
A 35-minute wait for his reserved table, "90-decibel screaming all around," no apologies, a freezing dining room, and an unaccommodating staff at the Arlington Club had Ryan Sutton envying his departing friends whose jobs didn't require them to stay. Usually when things go wrong, "good food and wine usually smooth out rough edges." No luck at Arlington Club, where sushi rolls taste "fresh out of the supermarket refrigerator aisle," "truffled Kobe beef over rice betrays neither Kobe nor truffle flavor," and all the cuts of steak at Laurent Tourondel's new steakhouse are underseasoned. The litany of mistakes goes on, but Sutton recommends that if you must go, order red snapper, which "while arriving cold, is brilliant, pungent with scallions."
Jay Cheshes finds Chez Sardine to be Gabe Stulman's most daring new project "by far." The "West Village hit-maker" folds Japanese izayaka fare with "French wine and American cocktails alongside wild multicultural bar bites." The sushi is "all purist sacrilege." Yes, "there's silky hamachi, topped in a smidgen of fried pork skin for crunch, and Spanish mackerel with fried slivered leeks and potato chip crumbs," but "you'd have to be a real zealot to find fault with how delicious they are." The rest of the menu is "essentially Japanese canapés — braised veal tongue, tender as Wagyu, brushed in sweet ponzu and pressed onto rice; hand cut beef tartare rolled in nori with rich, briny lobes of uni on top." Stulman "knows how to conjure enough off-kilter electricity to fill seats for this offbeat cuisine" and "the loony risk has paid off."
Over at The New Yorker, Hannah Goldfield appreciates "the elegant Art Deco light fixtures" and the "creative yet controlled" and "unusually delicious" food at Mayfield. Fluke ceviche served with grapefruit, mint, pickled chiles, and a side of popcorn is just one of the seafood dishes that fares "particularly well." Grilled octopus surf-and-turf (with pork belly) "served over arugula and white beans, seems like the logical evolution of surf-and-turf." Vegetarians should try "a surprisingly tasty cauliflower custard, accompanied by caramelized onion farro." A love for soul gave the place its name ("Mayfield is named for Curtis"), but the menu's "single misstep" is actually buttermilk-fried quail.