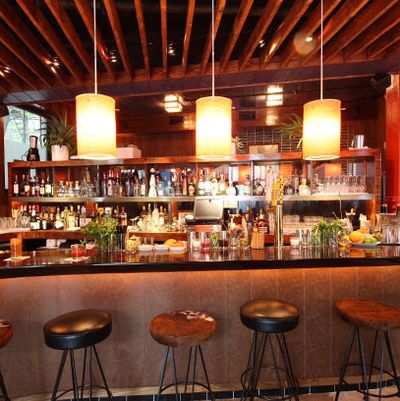 Wells likes El Toro Blanco's interior more than its food.
Photo: Melissa Hom
This week, the Underground Gourmet reviewed Chez Sardine and learned that the food is so good it's worthy of a "death-row binge." What do the other critics have to say about their recent meals? Read on to find out.
At El Toro Blanco, Pete Wells infers from the restaurant's "evocation of the last days of midcentury modernism" that "the look of El Toro Blanco is the latest sign that in New York City, Mexican cuisine is cool, of the moment and ready to be presented without quotation marks." And yet its "interior makes the point more forcefully than its menu." Sauces fall short, but unorthodox "fluffy" tamales oaxaqueña, crispy empanadas, and classic ceviches pleased Wells. The tacos, on the other hand, "didn't always deserve the acreage on the menu they occupied," but he does like the octopus variety.
Now that appearances of "bold-face patrons" like Justin Bieber have subsided, Michael Kaminer finds out that Super Linda can "handle the boring business of feeding patrons." Ceviche verde and chicken croquetas stand out on a menu that avoids "precious plating" for entrees and apps that can get "messy, big, and fun." Kaminer chooses chicken with crispy Brussels sprouts as the dish that earns the restaurant its name. Desserts "seem like an afterthought," but all in all "a generous heart beats beneath the frosty downtown exterior; portions are massive, and service downright sweet." Three stars out of five.
Robert Sietsema gives us a shout-out by way of a Woolworth's joke in his review of Le Midi Bistro: "'I read on Grub Street that this restaurant was once a loading dock behind a Woolworth's on 14th Street,' my companion observed, chewing on the last delectable bite of port-poached pear. 'What's Woolworth's?' I joked." He goes on to say the spot is "one of those old-school bistros where the food skews rich and salty, olive oil flow like tap water, and the portions make you think twice about ordering dessert." Sietsema and his friends debate the presence of various regional influences at this self-described "Provençal" restaurant, but you don't have to join in to enjoy the Rieseling-braised chicken and hare served "in a ragu of fennel and ripe red tomato." "The French onion soup rocked, too," Sietsema concludes, applauding its "revamped" broth that "tastes as much like beef as caramelized onions." For wines, "the glasses ($11) were a better value than the bottles." All this after a Japandroids show, to boot.
Here is Ryan Sutton's distillation of the revamped Bill's Food and Drink: "All is well as long as you're drinking hard liquor and not eating much at all." What happened to Bill's Gay Nineties? Sutton explains that the clumsy wine staff makes liquor the only real option, the prices are astronomical ($75 foie gras? $115 bottles of champers? $66 ribeye for one? $125 porterhouse for two?) and the flavors can't keep up. If you must order, get the Tuscan kale soup or the bacon chop, which thankfully "doesn't taste too much like bacon." Bill's "seems to be striving to replicate celebrity hangouts like Nello or Harry Cipriani, where high prices act as a cover to keep out the plebeians." Tejal Rao also doesn't find the menu particularly compelling, but with some finds: "A fresh tagliatelle with peppery goat ragu ($19) is full of flavor in a meaty jus and far more exciting than the chophouse dishes," she writes.
Jay Cheshes eats at L'Apicio, and finds that former West Villager Gabe Thompson's "generous crowd-pleasing food isn't chasing trends or setting them, but with its bold, layered flavors, it has enough personality to match that quirky wine list." Yes, as other critics have noted, the space is big and sleek, but that's just one way that "L'Apicio is the upmarket evolution, really, of the old East Village pasta joints." The pastas, like the "buttery candy-wrapper agnolotti," are "the high point of a meal here." The cod saltimbocca has "zip," and the "seasonal desserts … are equally straightforward and fundamentally comforting." All this in its "glitzy digs" — welcome to the East Village in 2013.
The New Yorker's Lizzie Widdicombe finds Pig & Khao squarely in the shadow of David Chang's "new breed of Asian-American comfort food" (a trend we've noticed ourselves). But at Pig & Khao, "the formula doesn't work as smoothly." Unwavering love for animal fats doesn't make the Sizzling Sisig (a.k.a. pig's head) add the flavor the dish lacks, and while the potted whole fish "gets points for not pandering to American sensibilities … that doesn't mean you want to eat it." Chef Cohen might have Chang's number on one item: The halo-halo, "shaved ice, leche flan, ube ice cream (made from purple yam), macapuno (a kind of coconut), and a toasted Filipino sweet rice called pinipig," tastes like "a bowl of cereal on steroids" and "might even be better than" Momofuku's cereal milk soft-servce ice cream.
Meanwhile, Steve Cuozzo offers "The Divided States of Food," a prediction that "most new restaurants are likely to be boringly traditional or scarily progressive ― and the hell with everyone else." With the city divided roughly along culinary and latitudinal lines, Cuozzo's advice is simply to "choose your color."