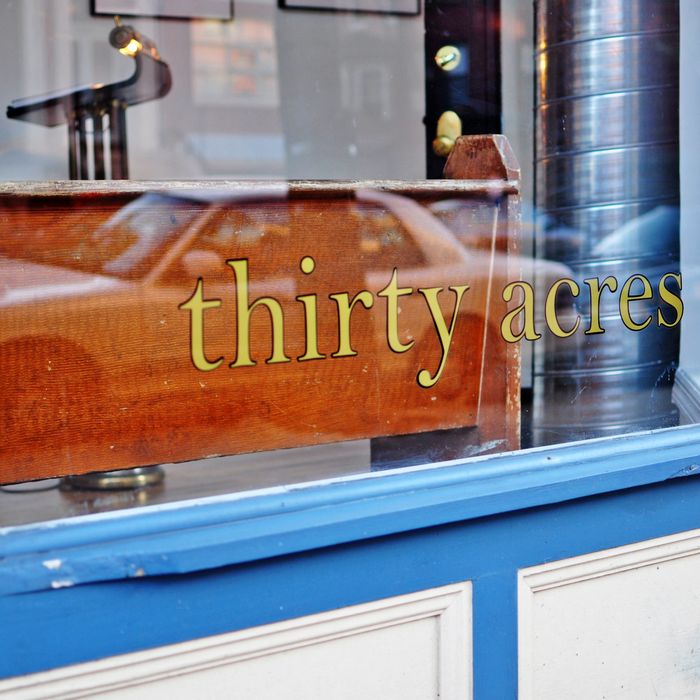 Pete's a fan.
Photo: Hugh Merwin
Whether cooking a holiday meal or splurging on one the city's innumerable New Year's Eve prix fixe menus, we've all had food on the mind these past few weeks. The critics are no exception. Our own Adam Platt skipped a formal review to put together the 2013 edition of the Where to Eat list. Where have the other critics dined during the holidays? Read on to find out.
"Creative stealing takes talent and nerve," Pete Wells argues. Chef Kevin Pemouile of Jersey City's Thirty Acres "has both qualities in abundance." The Momofuku Noodle Bar vet tosses "remarkably fluffy gnocchi" with a sauce of mustard and sour cream, sautéed mushrooms, and sauerkraut ("gnocchi, pirogi style") and cooks cranberries into a barbecue sauce to serve with smoky quail. Though the inventive cuisine avoids the logic of maps and borders, "a restaurant like Thirty Acres would be a find in any state," Wells says. Two stars.
Steve Cuozzo reviews the Arlington Club, where Laurent Tourondel aims to reinvent the steak house by adding sushi to the menu. The sushi often "suffers from too much of one element" — the steaks are another story. According to Cuozzo, "the piece de resistance is cote de boeuf, a bone-in rib cut that's magic in Tourondel's hands, tender and toothsome by turns and seething with mysterious mineral essences." With steaks like this, and Tourondel's "famously irresistible Gruyere popovers," Arlington Club brings a sidewalk crowd to its 200-seat space full of "artifacts like a 1920s bank clock" and domed with "a stupendous ceiling of glass and steel, echoing the Concourse of the original Penn Station."
Stan Sagner learns that Hospoda is Czech for "ale house," and while "meals here begin (and most end) with beer," the food in between rounds of traditional Pilsner Urquell reveals the name as "sly deprecation." Pleasure in portions as ample as the three-course menu is the rule in this restaurant below the Czech consulate: Sagner recommends a wobbly Parmesan poached egg with caramelized hen-of-the-woods, braised kale, and "a chicken a jus so concentrated it borders on demi-glace," and a duck confit risotto. Yet "the menu's most traditional dishes are, oddly, among its rare missteps." The fluffy Czech pancake, which "practically floats above poached apples on an ethereal cloud of sweetened, concentrated beer foam whipped with an eggy sabayon," is the star of the "short and satisfying" dessert menu.
Robert Sietsema finds a Peruvian take on Chinese food at Chifa Restaurant. The Jackson Heights restaurant excels at arroz chaufa (fried rice) and tallarin (lo mein), the "soft and savory center" of this cuisine. "The best productions of the chifa here," Sietsema reports, "involve an all-hands-on-deck approach." In tallarin Tayapa, "a giant wad of noodles with beef, chicken, pork, quail eggs, green bell peppers, onions, carrots, mushrooms, and broccoli" tops "delicate wheat noodles something like ramen." The big menu includes mainstream Peruvian recipes ("including an aquarium-size ceviche") and a few Japanese items, the only stand-out being nabo encurtido: a razor-thin daikon pickle in a sweet vinaigrette, with a few slices of jalapeño tossed on top.
Tejal Rao heads to Dear Bushwick, where Jessica Wilson "cooks English-inspired dishes with American ingredients." Fried potato peels, duck-sausage rolls, and smoked eggs go well with cocktails "that make use of many gins and exciting tinctures." The pork chop "sits on shaved Brussels sprouts in a bacon-y vinaigrette" and may "change your mind about contemporary English cooking." These dishes are simple and seasonal. The desserts "recall an underfunded school cafeteria," making them the weak spot on the menu. The décor thankfully "avoids clobbering diners too hard with an outdated definition of Englishness (white, male, mustachioed, atop horse)," evidence that this neighborhood spot caters to locals who come to Dear Bushwick to "eat and drink well without much fuss."
Jay Cheshes reviews the reinvention of Eleven Madison Park, which recently ditched its famous grid menu of ingredients for "a 16-course Gotham-themed meal," one "marked by stagecraft and tricks." A savory reinvention of the over-sweet black-and-white cookie uses Great Lakes cheddar. A deconstructed everything bagel arrives with a puff of smoke. There's a "remarkable meatless fascimile of the city's best steak tartare." Cheshes concludes that "in a city gone mad for tasting menus — from Brooklyn Fare to Blanca — Eleven Madison Park's is right now the one to beat."
At La Vara, Amelia Lester of The New Yorker finds Alex Raij's newest tapas restaurant "further proof that Brooklyn is set to become the new Manhattan." But Brooklyn can't just be Manhattan, and so at his Cobble Hill restaurant, Raij is "a long way from what tapas started as" thanks to "influences from the Moorish and Sephardic foods of northern Spain." Many of these tapas are "the kind of deceptively simple, perfectly executed cooking you can almost convince yourself would be possible to re-create at home." Others, like a suckling-pig dish "tempered with delicate, aromatic flavors or rose water and quince" are best left to Raij. Drinking is, after all, why tapas exist, and if you don't feel like sangria or wine, Lester recommends a "Gintonic" that "comes with the peel of an entire lemon wrapped around the top of the glass, to be inhaled, like a bouquet, with every sip."