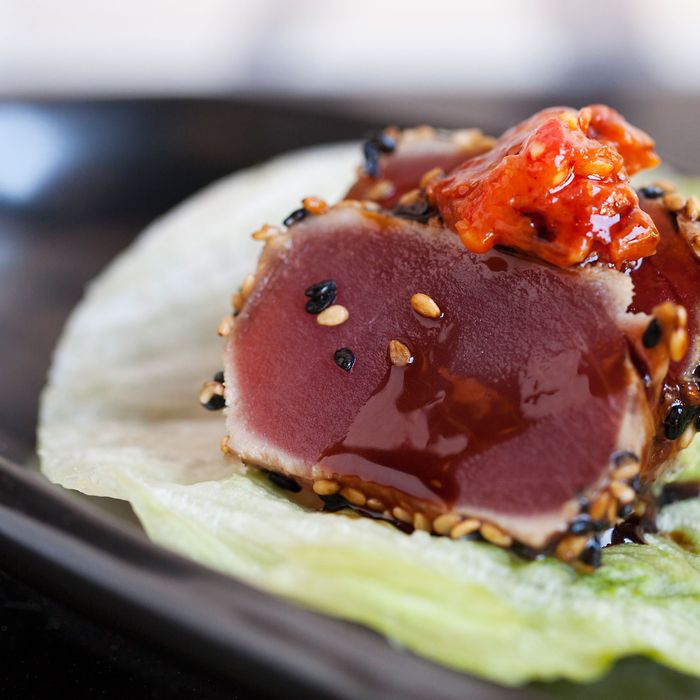 The Tuna Tataki BLT.
Photo: Dominic Perri
At the EMM Group's new "trendy casual" restaurant, which opens today, Catch chef Hung Huynh is cooking up modern Asian cuisine. Bowery bar-hoppers can get their fix of straight-forward sushi, but the General also offers dishes like Cinderella rice (mushrooms, squash, and truffled xo sauce), tuna tataki BLT, and large-format green tea lobster tempura. Proof that the fare's a bit more exotic than your standard Asian-fusion spot? The miso-glazed bass, a mainstay of contemporary Asian menus, is spiked with bourbon. Elsewhere, there are cheesecake spring rolls and Philly pepper steak sticky buns on the menu. The massive 4,000-square-foot space, designed by ICRAVE, is sure to be scene-y, but with large-format menu items meant to be shared among parties, this will be a nice break from stabbing your dining partner's fork for one of the coveted bites of a small plate at an izakaya. Check out the space and the dinner and dessert menus, straight ahead.

The General, 199 Bowery, at Spring St., 212-271-7101