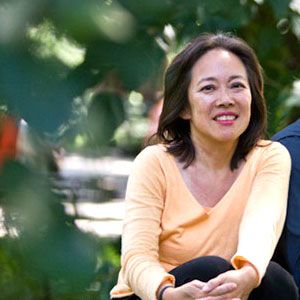 Tama Matsuoka Wong.
Photo: Thomas Schauer/Courtesy Meadows and More
Next month's TEDxManhattan conference, which is sold out but will be live-streamed on the Internet, features a diverse group of chefs, policy-makers, and hunter-gatherer activist types including Daniel forager Tama Matsuoka Wong and Back Forty chef Peter Hoffman, who'll speak on fracking and local food systems. Spring is coming; sustainable food is on the agenda, of course; and the future of your appetite is no doubt at stake. Here's a look at the full lineup.
• Tama Matsuoka Wong, MeadowsandMore - Foraging weeds and changing the way we eat to include weeds

• Gary Hirshberg, Chairman of Stonyfield Farm - GMO labeling

• Peter Lehner, Executive Director of Natural Resources Defense Council, NRDC (and former chief of the Environmental Protection Bureau of the New York State Attorney General's office)

• Fred Bahnson, Wake University School of Divinity - Food and faith movement

• Simran Sethi, journalist, author and educator - Saving seeds, by growing food
•
Peter Hoffman, Back West and Back West Forty - Fracking

• Maisie Greenawalt, Bon Appetit Management Company - The realities behind a large company going sustainable

• Anna Lappe, Small Planet Institute - Marketing food to children
•
Annemarie Colbin, Founder and CEO of the Natural Gourmet Institute for Health and Culinary Arts in New York - Theoretical framework for understanding food

• Ann Cooper, Food Family Farming Foundation - Solutions to the school food crisis

• Lindsey Shute, National Young Farmers Coalition - New Generation of Young Farmers in the US

• Steve Wing, University of North Carolina - Community health impacts of factory farm animal production

• Cheryl Kollin, Full Plate Ventures - Feeding fresh food to the hungry

• David McInerney, Co-Founder FreshDirect.com- Retailers' relationships with producers

• Bill Yosses, White House Pastry Chef - Food knowledge and how food affects our health
TEDxManhattan 2013 takes place on February 16.
2013 Speakers [TEDxManhattan]