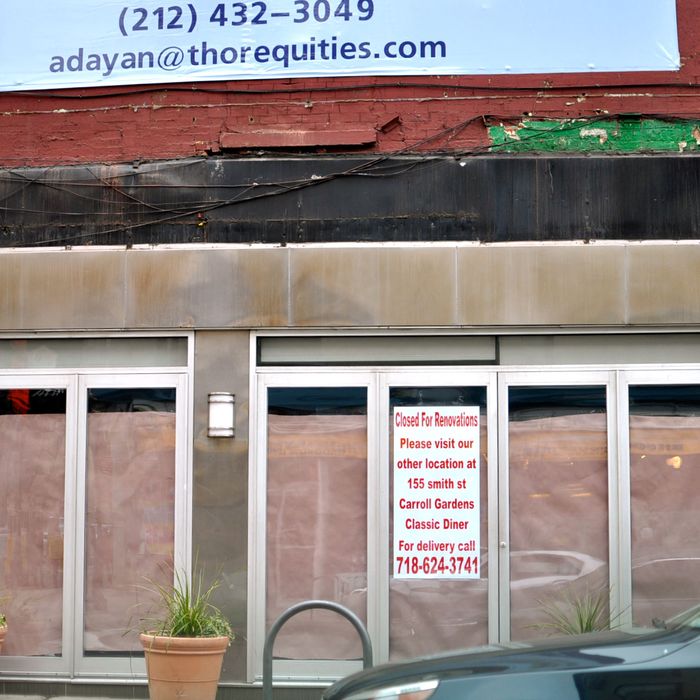 Bye-bye, all those big spinach pies.
Photo: Hugh Merwin
The Greek diner that has stood at the corner of Smith Street and Atlantic Avenue in Brooklyn appears to be closed permanently. Complete with burnished vinyl booths, spinach pies, warm coffee, and formidable omelettes, the St. Clair had been operational through the New Year, but closed down, Brownstoner notes, sometime last week. Paper now covers the windows, and the diner's exterior signs have been removed.
In December of 2011, it was announced that developer Joe Sitt had purchased the corner building for a reported $5.4 million. Thor Equities announced it would replace the diner with 6,000-square-feet of retail space, and it was presumed that the restaurant, which opened in 1920 and closed only for periods of renovation throughout the years, would close. Though a sign attached to the papered-over windows says the St. Clair is under renovation, the diner's contents are being auctioned off this afternoon on site, and the sign directs customers to the Carroll Gardens Classic Diner, which is owned by the same family.
Weekly Auction Listings [Michael Amodeo]
Redevelopment Coming Soon to Atlantic/Smith Corner? [Brownstoner]