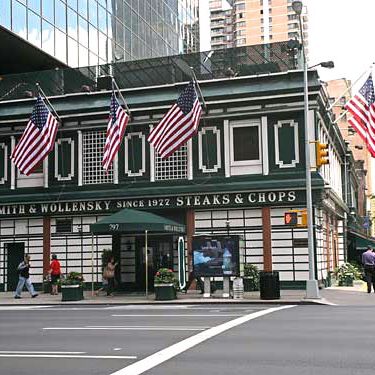 Prime, dry-aged drama.
Photo: Shanna Ravindra
It's happened to the best of us; you reach into your pocket and realize, oops, my wallet is at home. But when you're at a posh uptown steak house, that oversight can get you arrested. Italian tourist Graziano Graziussi, who's actually a regular at Smith & Wollensky, realized he left his wallet at a friend's place when the waiter handed him a $208 bill. So Graziussi offered to leave his iPhone as collateral while he went and retrieved some cash, which in this day and age, is the equivalent of leaving your firstborn.
Afraid of a dine-and-dash situation, Smith & Wollensky's manager refused to compromise — even saying no to Graziussi's suggestion that a busboy accompany him on the short trip to get money. (Which is a pretty good alternative, as long as Graziussi's not in the Italian mob and planning to take the busboy hostage.) Smith & Wollensky called the police, who proceeded to handcuff Graziussi, throw him in a holding cell, and charge him with theft of services. Though a judge tossed the case on the condition that Graziussi pay up, he still had to spend a night in jail. But it turned out to be a gangster fantasy that no money can buy. "The people (in custody) I met were actually quite civilized," he said. "It was like a movie. It was quite an experience." Welcome to America. [NYDN]
Update: Smith & Wollensky sent us the following statement: "We have been in business in New York City for over 35 years and normally, it is our policy to maintain our guests' privacy on all matters. We do not contact the police in any matter involving our customers without significant cause. NYPD Commissioner Ray Kelly commented on the situation in his press conference this afternoon:

"Police Commissioner Raymond Kelly said the 43-year-old lawyer from Naples did have a wallet with $118, but refused to hand it over. Graziussi claimed not to speak English, but a patrol supervisor who responded to the scene was fluent in Italian and was able to translate. He conducted the interview and determined that the individual simply did not want to pay." [CBS]