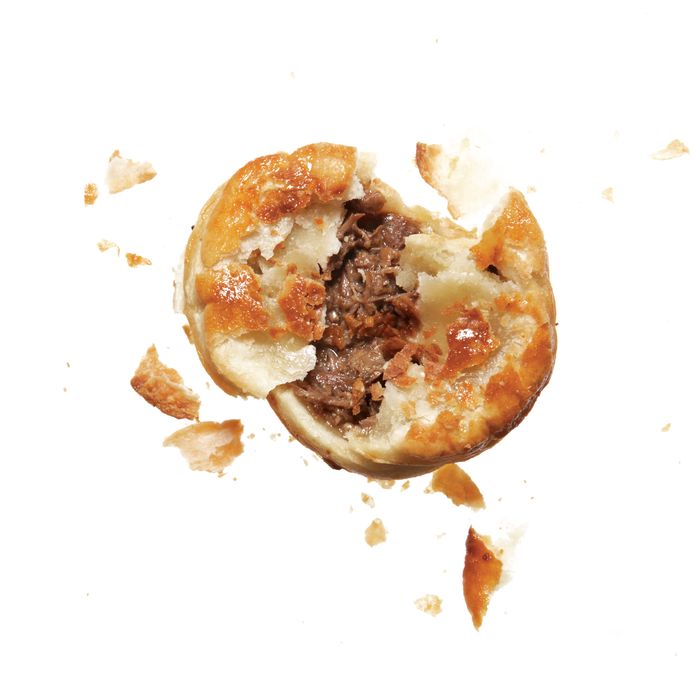 Photo: Victor Prado/New York Magazine
Pasties, sausage rolls, and bridies may not be as American as apple pie, but the notion of pie for lunch, ­dinner, or even breakfast is catching on. Of course, New Yorkers have long been exposed to immigrant meat-pie traditions both British (at Myers of Keswick and Tea & Sympathy) and antipodean (Tuck Shop, the Pie Shop, and the proliferating Pie Face chainlet). But more recently, as gastropubs multiply and locavore butchers and bakers expand their butter-crusted realms, the handheld options have diversified. It's interesting to note that in the original pies of central and northern Europe, the almost impenetrably thick pastry crust functioned more as cooking vessel, preserving method, and transport tool than foodstuff. Now, dare we say, the crust is the thing—the flakier and tastier the better. Fillings count too, of course, and can include anything from traditional steak and kidney to compulsory kale. And unlike the dessert variety, savory pies are most suited to the bone-chilling rigors of winter, fat and calories be damned. Here, a survey of the recent batch.
*This article originally appeared in the January 28, 2013 issue of New York Magazine.