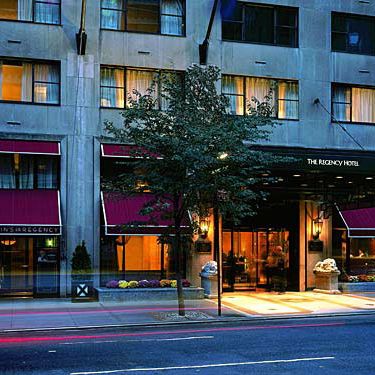 Looks quiet, but a lot's going on inside.
Photo: Courtesy of the Loews Regency
More news out of the Loews Regency today: Owner Jonathan Tisch is passing the baton on his famous power breakfast, so when the Loews Regency reopens this fall, in its place Sant Ambroeus owners Gherardo Guarducci and Dimitri Pauli will premiere what's being described as an "Italian grill." It will replace 540 Park, the hotel's traditional concept.
In addition to operating the new power-breakfast spot, the restaurateurs will also open an outpost of Sant Ambroeus — their fourth — at the Loews Regency, which will have a separate entrance on 61st Street. In addition to their mini-empire of elegant cafés, Guarducci and Pauli are the proprietors of the 162-seat Casa Lever and the wine bar Felice. They are also opening a café with art dealer Larry Gagosian on the Upper East Side.
"We are entrusting them with running the power breakfast, and I think they understand what has been a 40-year tradition," says Tisch, adding, "they have great food, great service and an international appeal. Clearly our friends will come back, there is the opportunity to introduce the Sant Ambroeus following to the new restaurant."
He says the new restaurant will be open by November 1, and while it will be all new, it will also be familiar. "The concept," says Tisch, "should be very attractive to the neighborhood and the business crowd."
Earlier: Old Loews 'Power Breakfast' Furniture Goes to Coney Island Senior Center
Related: Larry Gagosian Opening Artsy Restaurant With Sant Ambroeus Partners