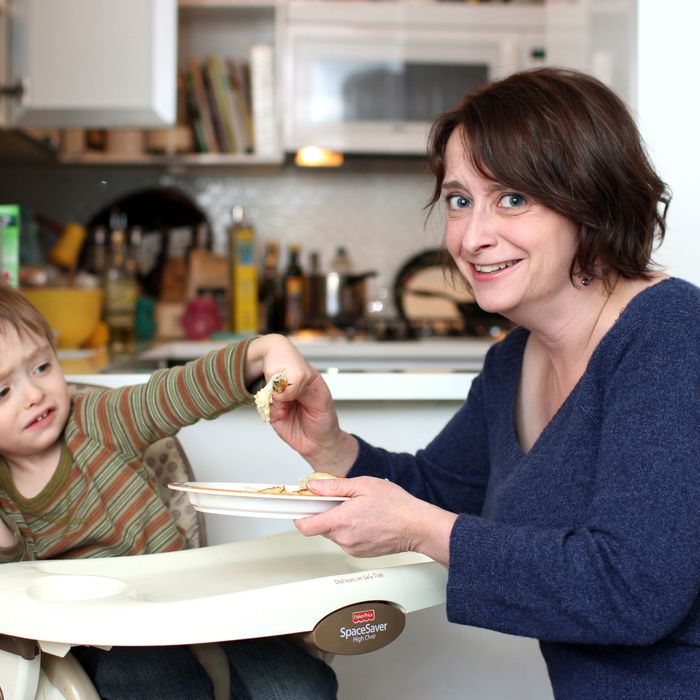 Dratch with her son Eli, who is not a big fan of fritters.
Photo: Melissa Hom
"Back in the days of SNL, I'd go out probably five nights a week," says comedienne and actress Rachel Dratch. But now she has a 2-year old son, and her routine has changed. "A lot of my diet is affected by what Eli will eat, in terms of what I order and what I cook, which will become apparent," she says of the diet. "So I know this may end up sounding like a mommy blog! I'm aware!" Of course, it isn't all baby talk for Dratch, who will field questions alongside Alex Karpovsky on the couch of comedy talk show Running Late With Scott Rogowsky at Galapagos on January 31.* Dratch is also working on turning her memoir Girl Walks Into a Bar…: Comedy Calamities, Dating Disasters, and a Midlife Miracle (paperback out February 5) into a television series; and, okay, she voices the Disney Channel cartoon Fish Hooks (in which she plays Esmargot and Koi). Read all about her grilled-cheese failures, Seamless addiction, and early-bird dinner with Will Forte in this week's Grub Street Diet.
Friday, January 11
I'm not a big breakfast person. I often skip it or just have coffee — a skim latte from Piccolo Café. Going into this process, I realize I may have some sort of "Reverse Health Dysmorphia" where I think I eat way healthier than I do and I will discover in having to record it that I eat like a frat boy. This morning I had about ten grapes along with my latte. So far, so good.
For lunch, I grabbed pizza with Eli on the way home from preschool. I also drank some Coke with ice. I don't drink a lot of soda — maybe once or twice a week? But I switched from Diet Coke to regular Coke recently and never looked back.
Now here it gets worse and this is only day one. I was lucky enough to go to the HBO Girls premiere the night before at Capitale — an event great for stargazing, by the way, with Ric Ocasek, Michael Stipe, and Debbie Harry. I've never had a sighting of Debbie Harry. It was thrilling. As I was leaving, someone from Baked by Melissa handed me a large box of mini-cupcakes. I fought my instinct to hoard the whole box and gave half of them to the babysitter. But once I tasted them later, I regretted my generosity. Anyway, for my Friday — let's call it "mid-afternoon pick-me-up," I had three mini-cupcakes and some swigs of Coke. Jesus.
In the evening, I met up with my friend Alec, at Pierre Loti, and had a salad with some grilled haloumi, and tuna tartare, with a glass of rosé, and then a glass of some Spanish red.
I may have eaten a few more of those mini-cupcakes at around 10 p.m., but who can say?
Saturday, January 12
Eli's dad John brought over egg, artichoke, and mozzarella sandwiches for breakfast, which tasted a little weird. The artichoke was a bit strange. It was a blah gray cold day and Eli had a cold and was super clingy, so we were confined to the home most of the day.
Lunch was cream of turkey soup and veg soup from Gramercy Café — ordered for the kid, but he wouldn't eat either. I ate half of each, with some carrots and Trader Joe's hummus, and the rest of a grilled-cheese sandwich that I made for the Eli, which he also wouldn't touch. How do you screw up a grilled cheese? It's always better made by a professional. Is it the butter? I don't know. I thought he'd like the hummus, but he rejected everything.
Afternoon: The Girls premiere keeps on giving. I realized I had a bag of gummy candies in my coat pocket. Yes, I ate those.

Saturday night is supposed to be my big night out where I could report from a restaurant, as we were supposed to go to Morimoto for our "hurricane relief dinner." During Hurricane Sandy, when we lost all our power and water, my friends Ricki and Evan took us in for two nights to their apartment on the Upper West Side, before we hightailed it up to Boston. Anyway, we've been wanting to take them out as a thank-you, something fancy-schmancy because of all they did for us. But Eli was too sick by then, so we had to cancel. It was 10 p.m. and I was having Rodney Strong cabernet and making rotini with store-bought tomato sauce! Sad!
Sunday, January 13
John got me a latte and an egg-and-salmon sandwich from Piccolo, which is right around the corner, which is why it's showing up so much here. I really like their coffee, and they have really good croissants. Eli loves them. We'll use getting-the-croissants as bait sometimes, to get him to go outside and go to school in the cold weather. Once we tried another place and he refused and said, "No, I want the good croissants" It's funny to have your little kid say "I want a croissant!" It sounds so pretentious! When he says it really loud I'm like, "Yes, this is my New York City child. He requires high-quality croissants."
Lunch was the rest of the soup from the day before, carrots, and hummus.
For dinner, I ordered in sushi from Iron Sushi, which I'd never tried before. I don't have a go-to sushi place in my area. I love Yama nearby, but they're not on Seamless, so I don't even know if they deliver. I like the no-human interaction of Seamless most of all.
After dinner I was on bedtime patrol, and when I was done putting him to bed I watched the Golden Globes. I'm not a big awards-show-watcher — I think I've only watched the Golden Globes one time before — but I knew Amy and Tina would kick ass, so that was no surprise to me.
Monday, January 14
No breakfast, and lunch was a salad, which honestly, I only made 'cause I knew I'd have to write it down. I don't go on diets, really, so having to write everything down is like a form of public shame.
In the evening, I headed to the Upper West Side to the "Celebrity Autobiography" show at the Triad Theater, where we read crazy autobiographies of celebs. They always have this food out from the Turkish restaurant downstairs. It's really good. I've never actually eaten in the place, just what they set out for the "Celeb Autobiography" cast. I usually don't make a meal of that they have out but I was starving from just having a salad, so I gorged on the little plates backstage: zucchini fritters and dipped things.
I had friends at the show, and after it we went to Riposo 72, which was nearby — basically the reason I went everywhere this week was because it was nearby — and had a glass of wine. My friends got food and I had a little bit of the cheese plate that they had.
Tuesday, January 15
Breakfast was chocolate yogurt from Trader Joe's, with some blueberries. Then I ran some errands and went to meet a friend for coffee.
For lunch, I had wonton soup and shrimp with string beans from Riceton, off of Seamless. It's right around the corner but I've never stepped foot in it. It's like my Seamless blind date friend.
Eli was a different story. He usually just eats the same things: scrambled eggs, pizza, fishsticks, or macaroni and cheese. I try to make him eat more healthy by introducing new things, but usually when I try something he won't even take a bite of it. One time I spent a whole morning making homemade muffins and vegetable soup, and he wouldn't even touch the soup, and he barely even touched the muffins. So then it was back to American cheese and Ritz crackers.
I was scrolling through the website Smitten Kitchen and this recipe for cauliflower fritters caught my eye because on the site she said she made them for her kid, who coincidentally happens to be in Eli's preschool, so I thought maybe I could get him to eat this healthy thing. So I made these cauliflower fritters and they were really good. I recommend them. They turned out really good, but of course he wouldn't even taste them.
In fact, the picture on this story is of him pushing those exact fritters away.
Wednesday, January 16
Coffee, yogurt, and blueberries from Trader Joes.
For lunch, Eli had fishsticks and I wanted something cheesy. I made myself a homemade egg McMuffin.
On Wednesday, Will Forte was in town; he used to live a couple of buildings down from me. It's the kind of thing where I saw a water bug and he came and killed it for me — that kind of chivalrous male neighbor. We met for dinner at — wait for it — 4:30 p.m., and we went to Pierre Loti. I almost went to Casa Mono to change up this report and be more food oriented, but Pierre Loti is a more lounge-y atmosphere so I bagged Casa Mono for this time. We had the cheese plate and arugula salad, and I was back home by 6:15 p.m.
For a snack later, I had cold cauliflower fritters.
*This post has been corrected to show that the Running Late show will take place at Galapagos.