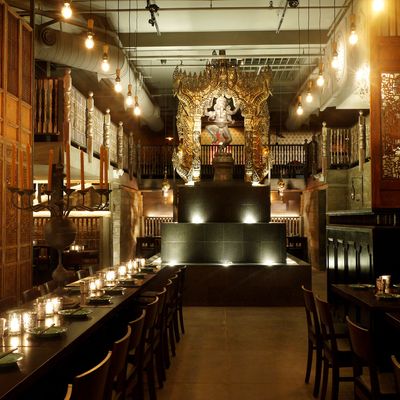 Ganesha is in the house.
Photo: Courtesy Qi Thai Grill
After a few delays, the very large new restaurant Qi Thai Grill opens tonight with 200 seats in a warehouse space on North 9th Street in Williamsburg, and it continues the Southeast Asian street food odyssey of sorts that began at Qi Bangkok Eatery in Times Square and its Union Square outpost. New partners Kea SiwaSila and Sripraphai Tipmanee of Woodside's Sripraphai are providing a menu of small plates, such as beef tendon larb and slow-cooked pork trotter with herbs, while returning chef Pichet Ong is not only providing the desserts, but also his own menu of savory dishes, including Chiang Mai sausages, grilled pork jaw with coriander root, and a riff on Buffalo wings, which are fried and served with kaffir lime and Sriracha barbecue sauce. Check out the full menu, just ahead.
Menu [PDF]
QI Thai Grill, 176 N. 9th St., nr. Bedford Ave., Brooklyn; 718-302-1499