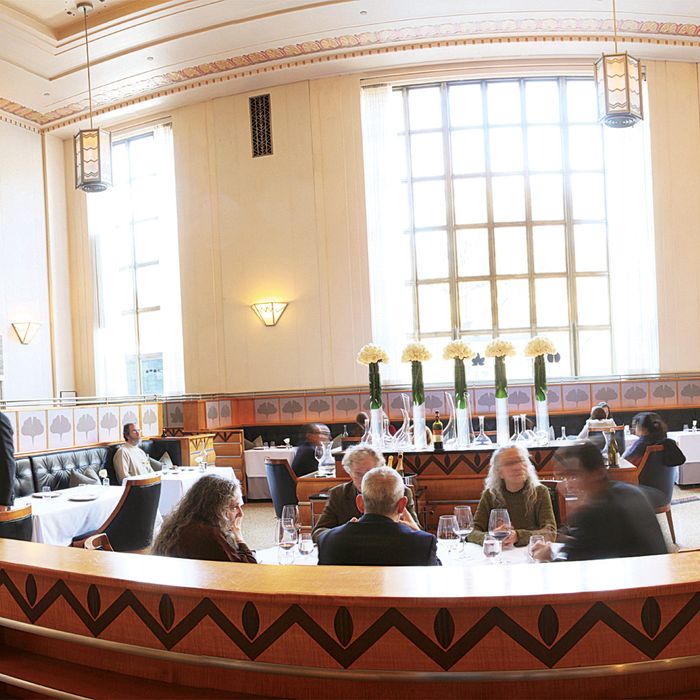 Eleven Madison Park
Photo: Victor Prado/New York Magazine
Most chefs choose to scrap menus, change business partners, and generally turn their professional lives upside down in times of crisis or economic distress. But with Daniel Humm it seems to be the other way around. Since arriving at Eleven Madison Park seven years ago, the talented Swiss chef has earned many awards (a James Beard, for one), accumulated countless stars (from Michelin, among others), and won rave reviews from an array of normally grumpy critics (including this one, who named Eleven Madison the best restaurant in the city last year). During the course of this meteoric rise, Humm has also helped engineer the slightly awkward purchase of Eleven Madison from his former boss, Danny Meyer. He's reinvented his own cooking style numerous times (from Continental French to haute locavore) and, as the old haute cuisine model has collapsed (along with the economy), he's come up with radical menu concepts like the famous "grid," which encouraged diners to build their dinner around specific ingredients instead of predetermined recipes.
So perhaps it's no surprise, with business booming and the restaurant's profile higher than ever, that Humm and his partner, Will Guidara, have decided to roll the dice again. As you may have heard, Eleven Madison has recently ditched its à la carte concept in favor of the kind of elaborate prix fixe tasting extravaganza made famous by auteur chefs like Thomas Keller and ­Ferran Adrià. Never mind that Eleven Madison's cathedral-size room is much larger and less intimate than your standard jewel-box tasting atelier. Or that New Yorkers, in this utilitarian dining era, are not as crazy about experimenting with their dinner as they used to be, let alone sitting through a four-hour, $195 meal. Like Keller and Adrià before him, Humm isn't catering only to locals anymore. He and Guidara aim to turn their restaurant into an international dining destination. They've conquered New York—now they want to conquer the world.
The early stages of this ambitious campaign have not gone smoothly, however. Critics have denounced the new menu as tedious and unformed, and on my first visit to the restaurant, it wasn't hard to see why. Despite the new tasting format, the choices on the baggy, overlong menu were muddled and confusing (instead of shrinking the grid, Humm actually expanded it). At the same time, the staid tasting gambit seemed to have leached much of the drama from the grand, formerly bustling room. Perhaps in an attempt to compensate, the wait staff rolled out a series of strange, terroir-themed gimmicks reminiscent of the tasting menu at Torrisi Italian Specialties (an haute egg cream, a silly cheese basket with pretzel baguettes, an even sillier card trick). Some of these things were diverting enough, I suppose, but the marathon $195 luncheon
I wound up choosing had no form or focus, and as one dish succeeded another in the hushed, half-empty room, I couldn't help pining for a simple, lunchtime bologna sandwich, say, or bowl of chicken soup.
Tasting menus may be a chore for diners, but they represent a fluid and adaptable form for chefs, and after the initial barrage of negative publicity, Humm has begun to adjust. When I dropped in a few weeks ago, the grid had been mercifully scrapped. The number of courses has now been slightly trimmed, and the meal is focused more tightly around the kinds of ingredients (lobster, foie gras, duck) that people who are forking over a couple of hundred dollars for their dinner tend to want. On my first visit, the menu was filled with busy compositions made with sea cress, cranberry gêlée, and cucumber foam. But this time, the first thing I tasted was a single chilled Long Island oyster, elegantly touched with wood sorrel and a classic mignonette. A smooth sea-urchin custard came after that, followed by two variations on that vanished New York delicacy, sturgeon, one laced into a delicate sabayon, the other smoked in embers of applewood, the smell of which filled the room like clouds of incense.
Humm's attempts to pay homage to New York's dining terroir still seem a little tortured (the smoked sturgeon is presented with what my waiter gamely described as "our take on the everything bagel"), but unlike my last meal, this one actually had a discernible beginning, middle, and end. The smoked sturgeon was followed by a melting slip of cognac-soaked foie gras dressed with truffles and a crumbling of rye, then a series of delicious seafood dishes that included seared scallops set over a silvery pear gêlée studded with caviar, and a crescent of sweet, butter-poached lobster arranged on the plate with a perfectly charred baby leek. I can't recall one entrée course from the original tasting menu, but now you have a choice of two, including cuts of extravagantly aged rib eye (140 days, according to the waiter), and Humm's famous roast duck, which is crusted, as always, with Sichuan peppercorns and served here with a wintry garnish of apples, sweet cabbage, and foie gras.
So is Humm's latest radical reinvention a success? That depends, I suppose, on your point of view. Admirers of the old menu will complain about the price of the new one (yes, it's high), the gimmicks (alas, the silly card trick still survives), and the room's staid new atmosphere (on quiet afternoons, it can feel like you're dining in a first-class train-station waiting room). But the new, international clientele (ladies from Shanghai dressed in their furs, snooty Euro bankers sipping flutes of pink Champagne with their bejeweled wives) seem to be enjoying themselves just fine. The friendly Danny Meyer brand of service is as relentlessly upbeat as ever, the best of the cooking is still world-class, and if you have the necessary capital, you can enjoy it with an impeccably chosen list of wines. I don't know if I'd call Eleven Madison the very best restaurant in the city right now, especially not for New Yorkers. But it's still one of the most interesting and unpredictable. And as long as Daniel Humm is in the kitchen, that's not going to change.

Eleven Madison Park
11 Madison Ave., at 25th St.; 212-889-0905
Hours: Dinner Monday through Saturday 5:30 to 9:30 p.m. Lunch Monday through Friday noon to 1 p.m.
Prices: $195 for fifteen-course prix fixe.
Ideal Meal: Oyster, sturgeon sabayon with chives, scallops with caviar and pear, lobster with leeks, roasted duck.
Note: A small à la carte "snack" menu is still available at the bar.
Scratchpad: By this bilious critic's reckoning, there are only nine four-star
restaurants left in this increasingly utilitarian dining town. Despite the jarring changes, this is still one of them.
*This article originally appeared in the February 4, 2013 issue of New York Magazine.