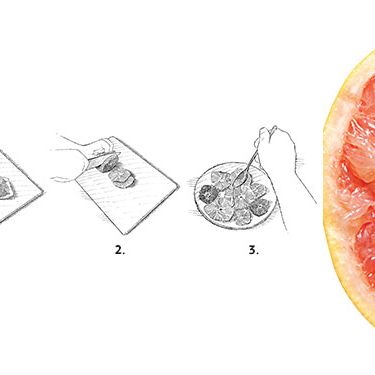 Photo: Victor Prado. Illustrations by John Burgoyne.
Flavor-packed pink grapefruit from Florida reaches its peak in January, just in time to perk up taste buds subdued by winter's drowsy comfort-food fare. Rosemary's chef Wade Moises combines the palate bracer with some of its citrus associates in this invigorating salad.
Wade Moises's Citrus Salad
2 pink grapefruits
2 navel oranges
2 blood oranges
2 Meyer lemons
2 tbs. red-wine vinegar
2 tbs. honey
Salt and pepper to taste
1/4 cup plus 2 tbs. extra-virgin olive oil
6 cups arugula
4 tbs. pomegranate seeds
1/2 cup sliced Parmigiano-Reggiano
1/3 cup roasted pistachios
Slice 1 of each of the citrus-fruit varieties in half. Juice 1/2 of each of the fruits, combining in a small bowl 1/2 tablespoon each of grapefruit, orange, and blood-orange juices with 2 tablespoons of Meyer-lemon juice, the vinegar, and 1/2 tablespoon of the honey. (Save any extra juice for another use.) Season with salt and pepper, whisk in the olive oil, and reserve. For the salad: Take the remaining citrus and citrus halves, and trim off the ends. (1) Turn each fruit upright on a trimmed end and cut off the peel and pith. (2) Slice each fruit across its equator into thin wheels to yield 8 slices. Arrange 2 wheels of each fruit on 4 plates and (3) drizzle with the remaining honey. In a large bowl, combine the arugula, pomegranate seeds, and Parmigiano-Reggiano. Toss with enough of the dressing to lightly coat the greens; add more dressing as needed. Divide the arugula mix and place in the center of each plate atop the citrus. Garnish with pistachios. Serves 4.
*This article originally appeared in the January 28, 2013 issue of New York Magazine.