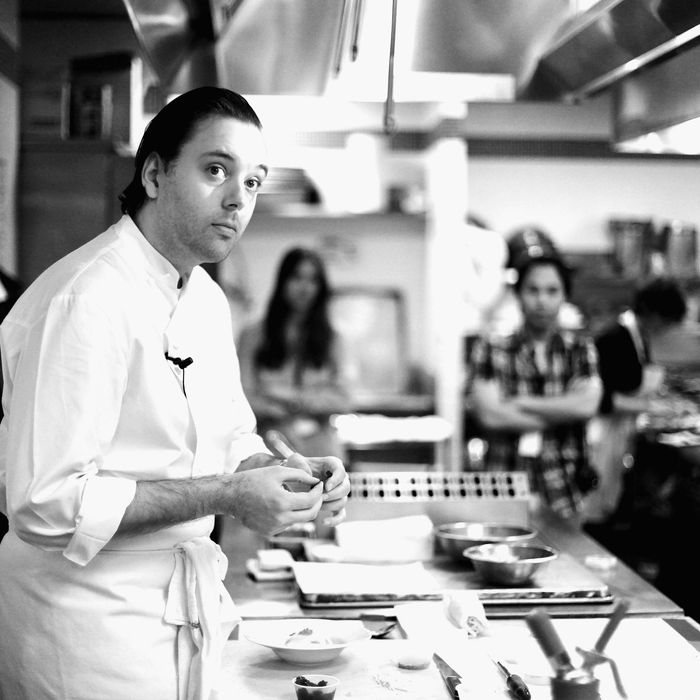 "You know, I had a very odd childhood."
Photo: Neilson Barnard/Getty Images
On Tuesday, it was announced that the chef Paul Liebrandt was headed to Brooklyn to open a second restaurant called the Elm, at the King & Grove Hotel in Williamsburg. Liebrandt will stay on as chef and partner at Corton in Tribeca, but few details were given beyond that. The chef says he's "getting older" and likes to stay out of the blogs, but since this is the same guy who was once found in the West Village feeding dessert soup to Times critics from baby bottles and offering a selection of ripe cheeses on a loaded mousetrap, we sensed there may be some surprises ahead. Grub Street met up with Liebrandt at La Colombe Torrefaction in Tribeca to talk about rustic English food and the axis of fine dining. Also, a little about his forthcoming restaurant, the Elm.
The announcement on Tuesday took everybody by surprise. Can you share more details about the new restaurant?
They're not really ready, no.
How about the food — what are you going to be cooking? How about the number of seats?
[Shrugs.]
Okay. How are things at Corton? You've been open for a while.
It's great. It's been five years now.
I saw you weighed in on the subject of tasting menus for Eater last week, but we don't hear much from you. It seems you cook outside the dominant trends of the restaurant world; you do your own thing and operate mostly outside the realm of the media, even though you were the subject a documentary.
I'm not a trendy person myself. I always think it's important to have your own voice. That's how I was trained, that's how it was in the kitchens I worked when I was a young man. The overriding thing is to be true to oneself. I don't want to be fake by doing something or following something that really isn't me.
What motivates your cooking these days?
I've been looking back more. Maybe it could be considered more classical, more along the lines of what I was doing fifteen years ago when I was cooking in London and Paris. I've been thinking about how we'd approach ingredients, in terms of building blocks, with the kind of French food we're doing at Le Manoir aux Quat' Saisons. I'm trying to get back to my roots, but in my way.
How would you describe your roots?
French classic, but with a really nice modernist twist. Maybe it's because I'm getting older.
You just said "when I was a young man." You're in your thirties. Do you no longer consider yourself a young man?
I started cooking when I was 15. That was twenty years ago.
I hear you've been spending some time at Mission Chinese Food.
Danny [Bowien] is … Wow, what a generous, decent guy. I went to dinner there. There's a young man who's standing up, who's really doing the food he wants to do, and it's delicious. It's rare to see that.
Your kitchen teams cooked for each other.
He said, "Why don't we do family food at Corton? That would be fantastic." So I said, "Okay, we'll do family food for you, too."
That's sweet.
So we did British-style family food for the crew at Mission Chinese Food. We cooked everything at Corton and brought it over there and served them. We made cottage pie, gratin of cauliflower, bacon with Brussels sprouts and apples. We made sticky toffee pudding and English-style custard. We pickled eggs and smoked them, made a really beautiful pork farce and made them into warm scotch eggs.
Is that the type of food you grew up with?
You know, I had a very odd childhood. I started at boarding school when I was 7. It prepares young people for self-reliance, independence, structure. You wipe your own nose; you fall down and you've got get up on your own. But the food was pretty horrific, really bad British food.
Will you be serving this kind of family-style British food at the Elm, but better-tasting?
You never know, you never know. [Laughs.] It's not going to be a British restaurant, no. Details are forthcoming. The ideas are 90 percent there, and we've given a lot of thought to the style of food we'll do, but I can't discuss it yet.
Do you live in Brooklyn?
Manhattan.
Because there's been all this talk about "Brooklyn" restaurants and you're about to open in Williamsburg, do you think your customers should expect a certain food aesthetic or style of food?
To me there are only two kinds: good and bad food.
I mean, Williamsburg is so close, proximity-wise. We're all in the same city; we're all part of it, and it's not really at all like going to the West Coast. It may sound a bit corny, but we're all New Yorkers — I consider myself a New Yorker. For me, it all comes under this "New York" umbrella. I'm proud to be here, and I'm very, very thrilled to be doing this project in Williamsburg.
You're still working on a cookbook?
Clarkson Potter is putting it out at the end of the year. It's not a traditional book; it's not a cookbook. But it's a big book. It's going to be something that's very nourishing to read as well as to look at.
Are you very conscious of how you're evolving as a chef now that you've been the subject of a film and you're documenting your recipes?
A lot of it has to do with getting older. I don't regret anything I've done, food-wise; it's all part of evolution. For instance, the way we approach ice creams and sorbets is very different than how we would have done them a decade ago. Let's say we're talking about the green apple wasabi that we served at Atlas in 2000. Looking back at it now, I feel like it was too sweet; the apple wasn't pure enough. I want to get that smell. A decade on, the flavors are more intense, the texture is better.
People think of you as someone who's developed a lot of his own techniques and uses them as a framework for writing menus.
I don't think I'm that clever. I don't consider myself at all to be a guy like Grant [Achatz], or on the level of Michel Bras. Maybe that's just me looking, but they really are geniuses. The way Thomas [Keller] reconfigured the idea of a tasting at the French Laundry — that's genius.
What makes you happy?
I've been able to travel a lot, which has been wonderful, and I'm a lot more in tune with myself. You know, I grew up in a very rough, very hard-core kind of kitchen. They teach you to cook and to be strong, but it's not good for social development at all, so I'm happy just living here and to do my craft.
Have you noticed a shift in the type of people who come to Corton looking to stage or get a job in the last five years?
I mean, they all look much younger to me, but that's because I'm getting older. Today in the kitchen we have six stagiaires, and the general approach has changed; it's not as Frenchified as it used to be with the brigade system. They've been to Noma; the way kitchens are run there and at places like El Bulli is different now, and I think perhaps it's more creatively stimulating for young cooks. There's an acceptance, that even if you haven't worked ten years in a kitchen with your head down, you still may have seen something that I haven't seen, and I'm very happy to hear it. That's a good way to grow. It wasn't like that when I was coming up. It was head down, do it, and you're done.
There are anonymous comments on Eater from people who say Corton — which represents a kind of fine dining — is going to close.
It's not. People have been saying that since day one.
Do you feel like this kind of fine-dining world in New York is endangered? In the last year, Ducasse and Robuchon closed. People are asking what's closing next, or what's even left to close.
But the two examples you just gave were union, which doesn't help a business like this. If you take a look at that model and its pay scale, you'll understand why. A dishwasher making $35 an hour may be good for the dishwasher, but not for a small restaurant. Every place that does something different, especially this white-tablecloth, fine-dining kind of thing — some people like it and others don't. With a stand-alone restaurant, like Corton, we're not supported by a real-estate group in the background or something like that. I was hearing these things in '09, Corton was closing, just a year after opening, and we were full every night. I'm not sure why. I wasn't saying that.
People talk.
Every restaurant has good nights and bad nights. Let's say you have a customer who comes in for dinner and we're not five deep at the bar, and we're having a mellow evening, and they think just because people weren't waiting at the door for tables means the restaurant is about to close. We don't do that here; we can't do that here.

The dominant perception of restaurants has gotten to this weird state where it seems like you're either a white-tablecloth, fine-dining place and your business model is endangered; or you have no tablecloths, you don't take reservations, and you have a line all the way out the door onto the sidewalk.
There should be a middle ground there, no?
Are you going to have reservations at the Elm?
Yeah, of course. But we'll also gladly accept walk-ins as well.
Earlier: Paul Liebrandt Opening New Restaurant, the Elm, in Williamsburg