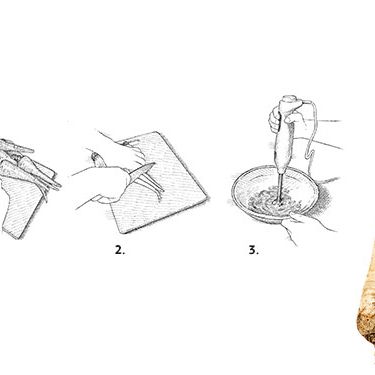 Photo: Victor Prado/New York Magazine; Illustrations by John Burgoyne
Although it may look like a parsnip that has seen better days, that is no reason to dismiss the parsley root. This old-world veggie is big in Central Europe, where it's also known as Hamburg parsley or turnip-rooted parsley, and where its herby, aromatic flavor is put to good use in soups and stews. Hugue Dufour, chef-partner at M. Wells Dinette, has discovered that it makes a first-rate foundation for a clever, winterized tabbouleh, too.
Hugue Dufour's Couscous Tabbouleh With Parsley Root and Preserved Lemon
1 cup couscous
1 cup extra-virgin olive oil
Salt and freshly ground black pepper to taste
1 cup tomatoes, diced
2 cups Italian parsley leaves, coarsely chopped
10 medium-size parsley roots (available at Greenmarket's Paffenroth Gardens and Muddy River stands)
5 cloves whole garlic, peeled
2 preserved lemons, seeds removed, diced (at Dean & DeLuca)
1 egg yolk
Preheat oven to 400 degrees. For the tabbouleh: Pour 1 cup boiling water over couscous in a bowl. Cover with plastic wrap, and let sit for 20 minutes. Remove wrap, and thoroughly stir 1 tablespoon of the olive oil into the couscous. Season with salt and pepper, add tomatoes and parsley leaves, and stir in another tablespoon of olive oil. Reserve. For the parsley root: (1) Peel the roots and trim the tops. (2) Cut 3-inch segments from the tips of the roots, place them in a bowl, toss with 1 tablespoon olive oil, and season with salt and pepper. Place the tips in a baking pan, and roast for 30 to 45 minutes, until nicely browned and tender. Remove from oven and set aside. Cut the remaining roots into small chunks. Add them to a pot along with the garlic, and cover with cold water. Bring to a boil and cook until tender, about 20 to 30 minutes. (3) Drain the water, and using a food processor or an immersion blender, purée the parsley root and garlic cloves. Once smooth, mix in 1/4 cup olive oil and season with salt and pepper. Set aside. For the preserved-lemon emulsion: In a food processor, purée the preserved lemons until smooth. Add the egg yolk, season with salt and pepper, and drizzle in the remaining olive oil; purée until smooth. To serve: Toss the roasted parsley-root tips with the tabbouleh. Spread a dollop of the parsley-root purée across each of 4 plates. Spoon on a generous portion of the tabbouleh, and drizzle with the lemon emulsion. Serves 4.