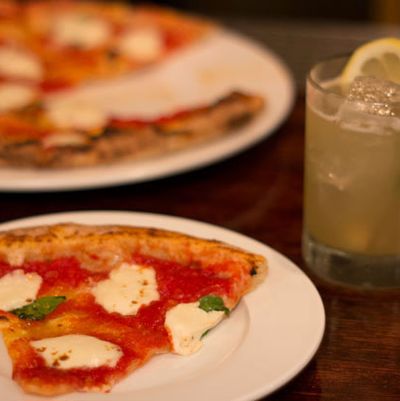 The Wells-stamped pizza at Krescendo.
Photo: Rodolfo Carlos/New York Magazine
Adam Platt filed a twofer this week. He tried the "umami-rich" macaroni and cheese and hamachi tacos at Iron Chef Masaharu Morimoto's Tribeca Canvas, as well as the Filipino pork head at Pig & Khao, a newish addition to the city's burgeoning Asian Hipster cuisine featured in Platt's 2013 Where to Eat list. Where did the other critics dine? Read on to find out.
At Krescendo, there's much on the menu and in the decor that's ordinary, writes Pete Wells, but the best parts of celeb chef Elizabeth Falkner's new pizzeria are all glam, from "a pizza oven clad in little metallic tiles that glint like sequins" to the Finocchio Flower Power pie — "an essay on the theme of fennel." Her pizzas run from the "utterly simple" marinara pizza to the Californication's "complex fleet of ingredients." (But skip the Clam Pie.) And like any ordinary pizzeria, Falkner includes pastas and salads on the menu. But unlike other comparable spots, where "the quality of a restaurant's pizza often correlates negatively with that of its pastas and salads," Krescendo serves an "exceptional" pasta con le sarde and a "lovely fritto misto of sliced pears, acorn squash and onions." The cassata, a sponge-cake dessert, "is another of Ms. Falkner's tiled ovens," Wells says. Two stars.
Michael Kaminer tries Hakkasan, which according to our own website's search teaser is "Ruby Foos for Rich People." And with Kaminer reporting "showy extravangances like Peking duck with Kaluga caviar at $295," we believe it. Kaminer pans the Hell's Kitchen "outpost" of the Las Vegas-based "glossy global chain." If you must, order the dim sum platter, "a panoply of plump dumplings in a bamboo steamer." While the "meat, fish and veg look and taste topnotch … none of the presentations do them justice," highlighting "the limitations of what's essentially a chain-restaurant kitchen." True to form, "desserts squander fine ingredients the same way." Despite its location in Manhattan and what that might (or might hopefully) entail, "it's hard to shake the sense you've entered a splashy theme eatery engineered to pry gelt from giddy gamblers."
You might know about the pizza war being fought by the Brooklyn Bridge (we published a rundown in October). The central figure is Patsy Grimaldi, who recently opened Juliana's, his comeback pizzeria. "All of Juliana's pies are remarkably straightforward, gently flavored," writes Tejal Rao. "Even the specials, which sound as if they'd be loaded with toppings, show a bit of restraint." The all-important char from Juliana's coal-fired oven is as if "painted on in watercolors," and "each bite carries the flavor of the oven without being scarred by it." People have come for the pizza, though Juliana's serves salads and fried calamari, too. Sinatra on the jukebox and stringy, fresh mozzarella (sometimes made by Mrs. Carol Grimaldi herself) — "Juliana's delights are simple."
"Chez Sardine's name doesn't refer to a fish being offered," writes Robert Sietsema, "but to the crowdedness of the room. Seven tables, a bar, and a sushi bar vie for floor space with customers waiting impatiently to get seats." It is ostensibly an izakaya ("a Japanese tavern"), but without the lowbrow menu or low prices to back it up. Yet Sietsema is willing to overlook this misnomer, since Chez Sardine "often diddles spectacularly with Japanese food." The bargain Salmon's head and the "delectable" beef-cheek curry are closest to standard izayaka entrees. The others disappoint, but the "Snacks, Sushi Bar, and Small Plates sections contain lots of good stuff" like Brussesls sprouts "deeply browned and surfing a wave of applesauce." Chez Sardine also serves "some of the most interesting sushi in town." For example, "a curl of brown Spanish mackerel goes exceedingly well with leeks and potatoes frizzled on top." Sietsema calls the flavor schemes "solid," but warns that "you'd have to eat at least 15 to make a meal."
Jay Cheshes argues that Fletcher's and BrisketTown "represent opposite ends of the 'cue-nut spectrum" that has in recent years fixed itself to New York City and especially Brooklyn (of course). The former "takes a big-tent approach, mixing up regional styles" and sells meat by the pound. Fletcher's "generalist tack" means variety, but skip the St. Louis ribs (the meat is "too dry around the bone"). Cheshes recommends the brisket burnt ends, which "may be the best in New York, the fatty deckle transformed into caramel-crusted meat-candy cubes," as well as the "sharp and creamy" macaroni and cheese on the side. BrisketTown, on the other hand, makes the case for specialization by "doing a few things really well in the Texan tradition." For the Yankees among us (and barbecue neophytes, geography aside), that means meat — in this case, brisket — without sauce, left to be judged by its pre-smoke rub and, most important, its tenderness. Cheshes maintains that every item on the "concise menu" of "just a couple proteins and sides" is "beyond reproach."
At The New Yorker, Silvia Killingsworth offers another opinion on L'Apicio's swanky East Village digs: "The effect is more West Elm showroom than epicurean destination." But the food here is "charismatic" nonetheless. Pastas and polenta dishes are sure bets, a suggestion supported by every L'Apicio review summarized here at the Other Critics. These al dente delights "arrive with a tall mound of shaved cheese, like a drift of fresh powdery snow." Speaking of cheese, "If the house-made ricotta is available, kindly ask your server to run, rather than walk, to retrieve a dollop of it with cranberry compote and crackers." Killingsworth warns that you might have to order it again for dessert.
Like Platt, Steve Cuozzo reviewed Tribeca Canvas this week, and he encountered "innumerable imponderables from globe-girdling 'Iron Chef' Masaharu Morimoto. Why would a chef put red beans inside a churro? Can Morimoto "sell anything to downtowners with grown-up dough and 16-year-olds' tastes?" "How crummy does a new restaurant have to be before it makes a celebrity toque a joke?" (By way of answering this last question, Cuozzo draws odious comparisons to Guy Fieri.) Cuozzo admits he had "one truly fine dish, luscious braised pork ribs with fried rice 'risotto' that reminded us of the crusty socarrat at the bottom of a paella pan." The rest was "silly, clumsily assembled part matter … of a suburban roadhouse on Super Bowl night." Cuozzo gives a horror reel of dishes — lumpy potsickers, mushy farro with Chilean bass, "tough little" korobuta corn dogs, "gooey and indistinct" macaroni and cheese, and what may or may not be a chicken potpie. Stay home, Cuozzo advises, "watch 'Iron Chef America' and enjoy what you're missing."
And finally, two critics turned in lists this week. Cuozzo rounds up the "23 Must-Try NYC Dishes & Drinks," while Ryan Sutton shares his finding that New York's priciest restaurants are also its quietest in "Quiet! Find Peace, No Horrid Music at These Spots."