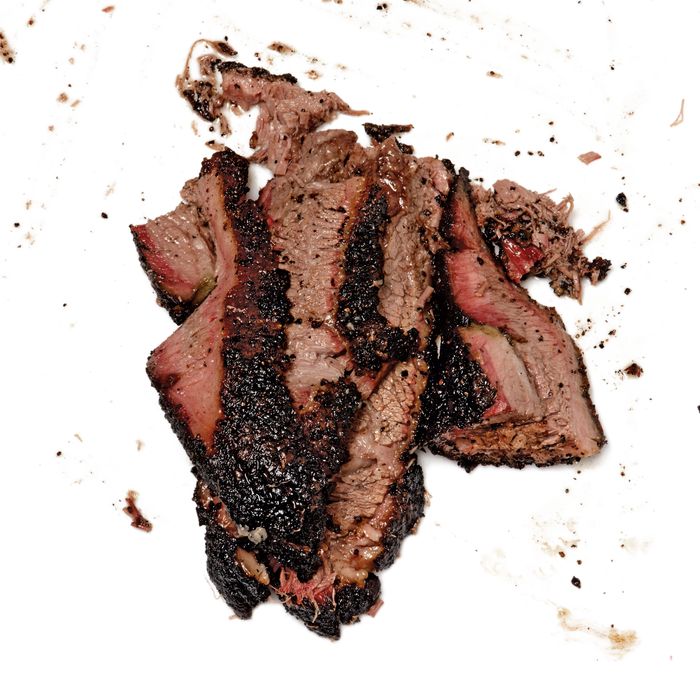 BrisketTown's brisket.
Photo: Jenny Westerhoff
Not too long ago, brisket was pretty much the exclusive province of Jewish bubbes and Texas pit bosses, with St. Patrick's Day corned-beef-and-cabbage cooks getting in on the action once a year. Now, thanks to the confluence of the New and Improved Jewish Deli Movement and the enduring Barbecue Boom, that homely cut, situated below the shoulder on the forequarter of the cow, has experienced a spike in popularity of almost pork-belly proportions. Bed-Stuy landmark David's Brisket House recently spawned a Bay Ridge outpost, and a veritable cult seems to have sprung up around not only Mile End's spectacular smoked meat but also John Brown Smokehouse's burnt ends, Smorgasburg upstart Mighty Quinn's barbecued beef, and especially the featured attraction at BrisketTown, the Williamsburg shrine to the thing that gave owner Dan Delaney's life meaning and purpose. "It's the best piece of the cow," an ebullient Delaney told the rapt audience at "Let's Brisket!," a panel discussion held last month at the Center for Jewish History.
It's also, not coincidentally, one of the cheapest. As a matter of fact, while the national average wholesale cost of most cuts of beef has increased from one year ago, the price of brisket has actually declined slightly. This fact has not been lost even on chefs who operate outside the realms of deli and 'cue. These days, aficionados will find brisket layered inside a titanic torta at ABV, occasionally topping ramen at Dassara, mingled with radish kimchee in Hanjan's fried rice, and tucked into steamed buns at Momofuku Noodle Bar. Danny Bowien serves broccoli beef brisket with smoked oyster sauce at Mission Chinese Food, and Harold Dieterle, an equal-opportunity brisketeer, uses it in both his Thai khao soi at Kin Shop and his Italian braciole at the Marrow.
But to truly track brisket's rise in this town, one must study the history of the boutique burger blend. Pat LaFrieda & Son butchers first started incorporating it into pioneering patties for places like City Hall and Shake Shack a decade or so ago, a practice that's since become de rigueur.
"Demand for brisket has grown 30 to 40 percent over the past year," says LaFrieda's Mark Pastore. "It's a cheaper piece of meat that eats like a Kobe steak."
*This article originally appeared in the January 14, 2013 issue of New York Magazine.