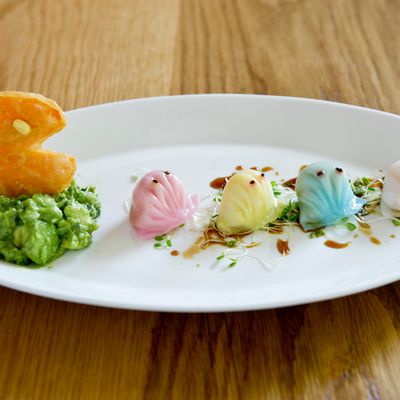 Pac-Man-inspired dumplings, like the ones served at Red Farm, should definitely be on the menu.
Photo: Evan Sung
Call it tables for Tetris: The arcade game division of video-game manufacturer Namco Bandai is developing a prototype for a new, "upscale entertainment restaurant concept" that will likely debut in the Chicago area, reports gaming site Polygon. Few details are available about the restaurant; Namco started off as the producer of Golden Age arcade games like Pac-Man and Pole Postion, but now mostly produces games and rides for places like Wal-Mart and multiplexes. So this could either be the restaurant of the future or the second coming of Chuck E. Cheese.
"It's no secret that we've been exploring a number of new business models and noodling the future of Out-of-Home entertainment for several years now, and our current planning does include an 'upscale' restaurant with 'entertainment elements'," Namco Entertainment's David Bishop tells Polygon. "And yes, we've been working with an established American restaurateur, as well as some other really talented external professionals, to develop the concept!" Intriguing. Polygon also reports the arcade company code-named the restaurant project Level 256, in honor of the intractable kill screens in both Pac-Man and Dig Dug.
Since they're calling it upscale and they're noodling out the future, why not just set up a swanky dining room where Ms. Pac-Man serves you cocktails and fancy pasta dishes and call it a day? Classic arcade games are always experiencing some kind of revival, after all, and last month in New York while Pac-Man was settling into his new home at the MoMA, we learned that the mini-chain Barcade was expanding to Manhattan, and the game bar Two Bit's Retro Arcade opened a few Tetris blocks downtown on the Lower East Side.
So while we wait for more details, we'll continue to pin all kinds of unreasonable hopes and expectations on this one. Namco Bandai also released the mini game series Cooked or Be Cooked, which leads competing players through the prep and cooking of several virtual meals. Here's hoping Namco's "Level 256" is a lot of fun no matter what shape it takes and there are at least a few jumbo robots fighting it out to the death in the kitchen.

Namco planning prototype upscale entertainment restaurant to expand arcade business [Polygon]
Earlier: Barcade Is Opening in Manhattan