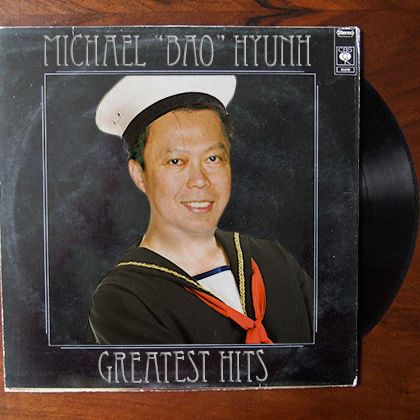 Classic Michael "Bao" Hyunh on vinyl, from his
"Stern & Bao"
Era.
Photo: Photos: Piano Piano!'s flickr, iStockphoto, PatrickMcMullan.com
Yes, he said so last summer, and now Gael Greene confirms it: Michael "Bao" Huynh is leaving the country to go cook at restaurants in Vietnam. For the time being, his wife Thao Nguyen will stick around to continue running Baoguette, but Huynh says he's leaving on a jet plane because he's hooked up with new partners who have restaurants already open in Hanoi, "with three others imminent in Saigon." Plus, Gael Greene reports, the chef is thinking about opening a "Brooklyn Diner" in Vietnam. After numerous setbacks, Huynh has abandoned the lease for his next planned restaurant, at 26 Greenwich Street, which will become a bistro. The chef is even looking for a home for one of his Pekinese dogs because "he can only take two dogs on the plane with him."

In other words, it's serious this time, so here, to commemorate Michael "Bao" Huynh's lengthy history of New York restaurants with pun-filled names, is a list of his greatest hits, opened and otherwise, in no particular order.

1. What's the Bao 111?
2. Bao Noodles
3. Bar Bao
4. O Bao, Where Art Thou?
5. Mickey's Burger
6. BaoBQ
7. Shish Ka-Bao
8. Bun
9. Bun (UWS remix)
10. Bia Garden
11. Baoguette Cafe
12. Baoguette
13. Baotique
14. Andy 'n' Bao
15. Chinito
16. Pho Sure
17. Baorrito (not the same as Chinito)*


We will miss you, Mr. Huynh. So long, man, and thanks for all the shish ka-baos.
Michael "Bao" exits NYC for Vietnam, his Land of Opportunity [Insatiable Critic]
Earlier: Michael Huynh Is Bao-ing Out
*We didn't make any of these names up.