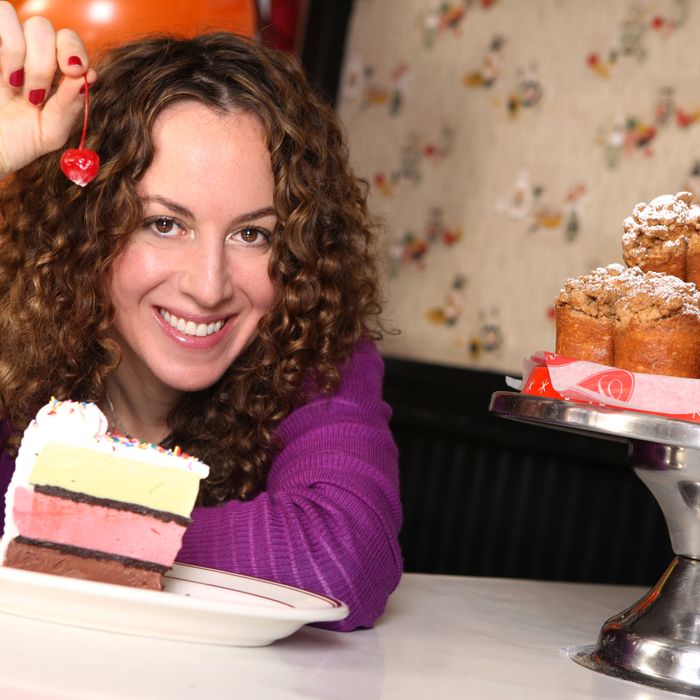 "I ate a lot of cake. That rendered me a little bit sick to my stomach — but also euphoric."
Photo: Melissa Hom
"I'm really ashamed about my eating," says Melanie Dunea, the photographer behind My Last Supper. "I do eat, like, salad. It just happens that this week I've been out all the time." That's because this past week, Dunea has not only been celebrating her birthday, but has also been finalizing the arrangements for tomorrow night's Shame on Sandy event, a food-centric variety show she organized that will benefit families affected by the storm. "It will be awesome, but the whole point is to raise le money," she says of the show, which is taking place at the Highline Stages. "There's a chance to raise $50,000, so we're excited." Among the people who will take part are Anthony Bourdain, Mario Batali, Tom Colicchio, Daniel Boulud, Stephanie March, April Bloomfield, and lots, lots more. (Tickets, by the way, can still be had by going here.) And even still, Dunea found a way to get to just about every hot restaurant in New York. Read all about it in this week's Grub Street Diet.
Friday, January 4
I start every morning pretty much the same. It's the only routine that I have in my life. I always have a cup of Tetley's decaf tea. I love it. I bring it over from England. It's the best tea ever. And I love that first taste of something warm in the morning. Then I have a Siggi's vanilla yogurt.
After that, it all went pear-shaped for me because I went to Parm, to get my picture taken for this. So in a way, Grub Street was the enabler here. Of course we couldn't have just one piece of cake. We had to have two. So I ate a lot of cake. That rendered me a little bit sick to my stomach — but also euphoric. That was at about noon. So that was my lunch.
At about five o'clock, I realized I was starving, and for some reason had no food in my refrigerator this week. So I had two hardboiled eggs, another cup of tea. And then — then I went to El Toro Blanco for dinner.
I had two Tecates, and then, fortunately, my dinner guests — who were all family — hate guacamole, so I ordered two pots of the guacamole and ate one whole one myself. With the chips. And I even think Josh [Capon, the chef] was shocked.
I ordered the fish tacos with cod, but I gave them to my cousin. I had one bite. And I had a taste of the queso fundido with chorizo, which was also delicious.
And then some motherfucker told them it was my birthday the next day, so they brought me a tres leches cake, with dulce de leche ice cream. I'd never had it, but tres leches is what Stephanie March chose for her last supper, so I obviously had to try it, even though I was absolutely full. It was really delicious. That's all I need — another thing that I can't stop thinking about eating.
Saturday, January 5
Saturday was my actual birthday, so I indulged in two and a half hours of my gym. It's a dancing gym. I had woken up totally full from the night before, but halfway through I realized that I'd peaked and needed to have something. So the only thing they sell at the gym is this drink called Neuro, but I call it Rocket Fuel. It's like this caffeinated, red, toxic liquid. I don't drink much caffeine except when I really need it. I use it. So the Rocket Fuel boosted me nicely.
Around two o'clock, I went to Bien Cuit because all I really wanted was the raisin toast with butter. And I had a decaf Americano as well. And I had an almond croissant. I didn't eat the whole croissant, though — only a taste of it.
When I got home, my little neighbor children — they're like my family; we live in each other's houses — told me I had to be there at 6:30 p.m. for a surprise. So I went over and they had bought those little tiny Melissa's cupcakes, and they had a piñata shaped like a cupcake. So my neighbors and I drank Champagne and annihilated the piñata and then rushed off to Mission Chinese for dinner.
At dinner, they'd just gotten their liquor license, so I started with white tequila. It was served in a teacup, which was hilarious. Then we had some beer, but my friend gave me a flask for my birthday and it was full of vodka, so we all had to drink that as well. To eat, we had the salt-cod rice — heaven on earth. We had the chicken wings, which everyone else found too spicy, so I took it upon myself to eat most of those; then we had the lamb with cumin — you could bury me in cumin, I love it so much — and then the triple-cooked bacon, the pea greens, but at that point I didn't really want any greens, even though I usually love them. Instead I focused on the peanuts with chili, the pig tails, and then some cognac when we got home. Please tell me AA isn't going to call if they read this.
Sunday, January 6
That morning my lovely husband brought me my tea in bed. Then I had my yogurt and some decaf coffee.
I would have had the Parm cake on my birthday, but since I'd had two slices on Friday, I skipped it. But I did eat some anchovies out of a little bottle.
When it was dinner time, I couldn't face cooking. I've been so swamped with Shame on Sandy, and I wanted to devote my full attention to Downton Abbey, so I ordered a Dirty Bird rotisserie chicken and ate one of the legs, some of the coleslaw, and an iceberg wedge with bleu cheese.
It wasn't such a bad day, but then during Downton Abbey I had to eat the candy from the piñata, which included Tootsie Rolls and Red Hots and all sorts of teeth-killers. I hope my dentist isn't reading this.
Monday, January 7
Started up with my Siggi's yogurt and three cups of tea.
And then I was rushing around and going a million places, so I had two hard-boiled eggs again. So many eggs — this is like Cool Hand Luke .
I spoke with a friend who was drinking green tea and it sounded like a good idea, so I went to SoHo House with Stephanie March and we had green tea.
Then I went for dinner to Dylan Prime, right around the corner, with some friends. I had shrimp cocktail, a steak, mashed potatoes, and skillet potatoes, and some oysters. This is so shameful.
Tuesday, January 8
Started out with the yogurt, but at this point I was seriously not hungry so I didn't have my yogurt until about noon. I had my tea, too, and it sat with me most of the afternoon.
I did have a snack of sardines out of a can. I was pillaging my cupboard, but I do love eating sardines and anchovies — it's just a little embarrassing to admit it to the public.
Dinner was at Hearth, shared with a bunch of people. I had a little bit of the arugula and shaved fennel with cippolini onions, white anchovies, and croutons. I had a bite of foie gras, which, as I was taking notes for this, my phone auto-corrected to "foie dead." At this point I felt like a goose before slaughter, so I had just bites of the cacio e pepe and the rigatoni with boar ragu. But then I had the rabbit, which is a big stew and a family recipe from Marco Canora and his favoritest thing ever. He actually picked it for his own last supper, so it was really cool to get a chance to taste it and it was fucking delicious. I had a tiny taste of the doughnut for dessert, but I really felt like a stuffed pig.
Wednesday, January 9
That morning, I had a cup of tea, and then I branched out and had Greek yogurt mixed with Siggi's vanilla yogurt. In the afternoon, I had a green juice called Long Life, which had cucumber, parsley, celery, and apple in it. I didn't like it, but who can resist something called Long Life?
Then I went to dinner with my girlfriend at Torrisi. We had the New York-themed chef's tasting menu. I would never repeat a tasting menu, except for this one — well, and Le Bernardin. I don't love, love, love tasting menus, but Torrisi has literally the best food I've ever eaten — it's the greatest experience, pretty much, of my life. Of the menu's twenty courses, one of my favorites was the Buckwheat Caviar Knish. It comes in this beautiful silver bowl that opens and reveals a tiny gem on a bed of buckwheat. Heaven in a bite. I also loved the Foie Gras Newberg and the Delmonico Steak Tartare. We shared two bottles of red wine.
Since all of the dishes were inspired by New York, the dinner made me feel like I was so lucky to be alive and living in this city. It's such a privilege. The meal was a perfect way to end a fantastic week of eating. But now, I swear, I'm fucking juicing.