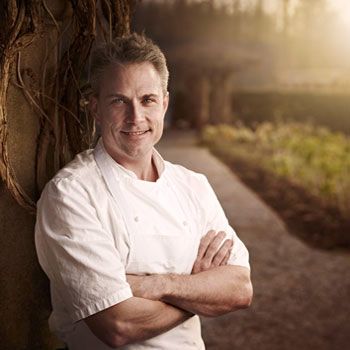 Gushue, at the restaurant.
Photo: Courtesy Langdon Hall
The 41-year-old executive chef of the Langdon Hall Country House Hotel and Spa in Cambridge, Ontario, has been missing for more than a week, police say, and they're turning to the public for help in locating him. Jonathan Gushue was last seen on New Year's Eve in downtown Toronto. Authorities tell the Waterloo Record that the chef, who is five foot ten and 180 pounds with short, dark hair and blue eyes, may be using the surname Herder, which is actually his middle name.
Gushue's restaurant Langdon Hall is a member of Relais & Châteaux and was ranked 77th on 2010's World's Best list published by S. Pellegrino; Langdon Hall Country House was voted best in Canada by Condé Nast Traveler last year. The Newfoundland-born chef trained at restaurants in England, Canada, and Japan.
Police are asking for anyone with information about Gushue, who is married with three children, to call the Waterloo Regional Police at 519-650-8500, extension 2299.
Langdon Hall's executive chef reported missing [Waterloo Record]
Canadian celebrity chef missing since New Year's Eve [CBC]