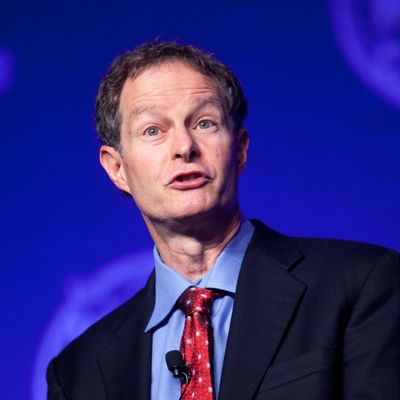 Mackey.
Photo: Andrew Harrer/Getty Images
John Mackey wants to change the way you feel about large corporations, and that's what his new book, Conscious Capitalism: Liberating the Heroic Spirit of Business, is all about — taking the edge off public perception of businesses that have shareholders and large operations. "Even if its goal is to maximize profits, it's not as if business can just do whatever the hell it wants to do," he tells NPR's "Morning Edition," "because people exchange with it voluntarily, and that acts to discipline some of the selfishness and greed that corporation might have."
In the interview, the grocery chain's co-CEO uses the example of how Whole Foods worked with fisheries and watchdog groups to gradually phase out unsustainable fish from its stores, rather than ban unsustainable fish outright, all in order to support the continued money-making interests and the development of alternative business strategies. Mackey, who is donating all profits from sales of the new book to the Whole Planet Foundation, also says he considers Obamacare a form of "fascism." Toward the end of the interview, he describes the Affordable Care Act:

"Technically speaking, it's more like fascism. Socialism is where the government owns the means of production. In fascism, the government doesn't own the means of production, but they do control it, and that's what's happening with our healthcare programs and these reforms."
Morning Edition will upload another installment of the interview tomorrow, presumably with more of the CEO's views on health care. In the meantime, Mackey and his co-authors will sign copies of the book tonight from 5 to 6:30 p.m. at the Whole Foods in midtown east, at 226 East 57th Street.
Whole Foods Founder John Mackey On Fascism and 'Conscious Capitalism' [Salt/NPR]