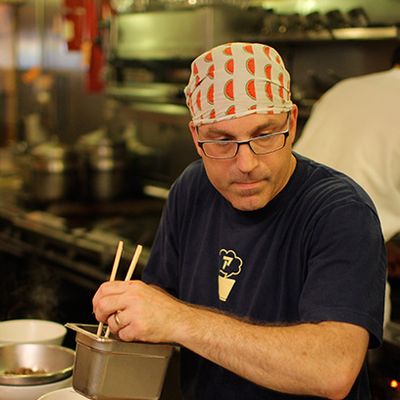 Time to make the noodles.
Photo: Melissa Hom
Making his first appearance before CB3 Manhattan's SLA Committee last night was the illustrious ramen maker Ivan Orkin, who said he didn't have a "fancy lawyer to draw up a map" for his planned new spot on the Lower East Side. Maybe he should have, because when the chef and restaurateur told the committee that the proposed location of his first Ivan Ramen was within 190 feet of the venerable Congregation Chasam Sopher orthodox synagogue on Clinton Street, the factoid put a wrench in his plans to sell liquor at the site of the old Ed's Lobster Bar Annex. "Even if it's 199 feet, the SLA won't allow it," Susan Stetzer, CB3's district manager, said, invoking New York's 200-foot rule. "It's against the law."
The committee offered Orkin the alternative of applying instead for a wine and beer license and returning at a future date should the SLA find that its measurement of the footage was permissible in New York. The chef was approved for beer and wine but left the hearing plainly disappointed. "I'm not sure now whether I even want the site," he told Grub Street. Other applicants were luckier.
• Pig and Khao received an upgrade on their license to full liquor, despite an objection from Committee Chair Alexandra Militano that the tiny restaurant offering Thai and Filipino fare on Clinton Street had been open a little more than three months. The application got strong backing from Community Board member Meghan Joye and others, however, who testified that the spot was "nice, peaceful, low-key."
• Hill and Dale, a new gastropub from the operators of the Brooklyneer on Houston Street, also got the committee's nod for a full liquor license at 115 Allen Street, the so-called "cursed space" that was once home to the ill-fated Mary Queen of Scots and Allen & Delancey. CB2's SLA committee had rejected Hill and Dale's application late last year for a spot not far from the Brooklyneer, but sent CB3 a letter of no objection for its new bid, and it also received support from local residents. "It's a nice place, and we're not afraid of ghosts," co-owner Aron Watman explained to us with a laugh. "We're out to break the curse."
• Finally, the committee appeared to reverse itself when it voted last night to deny Drew Figueroa's application to renew a one-year wine and beer license for his controversial LES bar, the Suffolk, which he has run within the Clemente Soto Velez Cultural and Educational Center for a decade. The full board had sent his application from last month back to the committee for further review because residents and center tenants complained of noise from bar music and live performances. (His faux beach is long gone.) Jan Hanvik, the center's executive director, acknowledged that Figuerora once held his job and had been a board member, but then labeled him a "rogue tenant" in the city-owned building. Figuerora shot back: "You're in the building because of me." After intense exchange, the committee voted for a resolution stating Figuerora's bar was a "disruptive" influence on a nonprofit's mission that he was unable to control. Stay tuned.