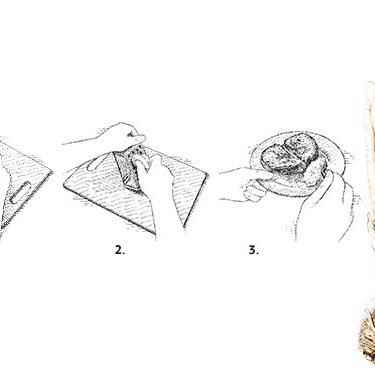 Photo: Victor Prado/New York Magazine. Illustrations by John Burgoyne.
Nothing against the fairly perky stuff that comes straight from the jar, but that is mere child's play compared to horseradish that's freshly grated. Its super-pungent, sinus-thumping heat cuts the richness of winter's meaty stews and braises. And, of course, roast beef and horseradish go together like peanut butter and jelly. Our favorite new application, though, is this invigorating relish that Hospoda chef Katie Busch serves alongside Czech-style ham sandwiches that are dipped in egg and then fried like pancakes.
Hospoda's Fried Egg Bread With Apple-Horseradish Relish
For the relish:
1 medium horseradish root
2 tart apples
4 tbs. fresh lemon juice
2 cups sour cream
Salt and pepper to taste
For the egg bread:
3/4 cup cornichons, minced
1/2 medium white onion, minced
10 slices good rye bread, sliced thin
5 tbs. Dijon mustard
10 slices smoked ham
8 eggs, beaten in a shallow bowl
Soy oil to pan-fry
For the relish: (1) Peel the horseradish root and the apples and (2) grate each with a cheese grater. In a bowl, combine the horseradish with the apple, adding the lemon juice to avoid discoloration. Gently fold in the sour cream, season with salt and pepper, and reserve.
For the sandwiches: In a small bowl, combine the cornichons with the onion. Lay out the 10 slices of bread on a work surface. Spread one side of each slice with mustard. Divide the cornichon-onion mixture among 5 slices of bread, and then layer them with two slices of ham. Cover with the remaining slices of bread, mustard side down, making 5 sandwiches. Dip each sandwich into the beaten eggs. Heat the soy
oil in a skillet over low heat, and fry the sandwiches in batches until golden brown on each side. (3) Serve with the horseradish-apple relish.
*This article originally appeared in the January 14, 2013 issue of New York Magazine.