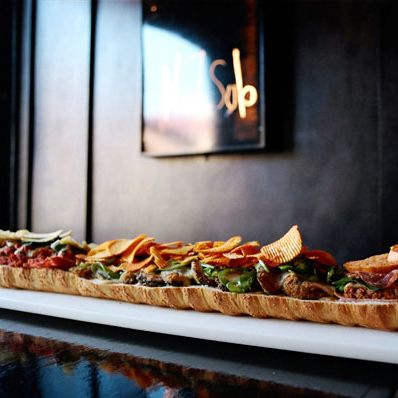 No. 7 Sub's offering three-foot and six-foot sandwiches. Take that, Subway.
Photo: No. 7 Sub
Super Bowl food is usually limited to mediocre pizza, chicken wings, and nachos. In other words, bro food. Luckily, restaurants around town are offering large-form takeout specials that deviate from the norm — potato and kale kolaches from Northern Spy Food Co., buttermilk-brined fried chicken from the Dutch, and tacos from Tacombi at Fonda Nolita. We've sifted through the best alternative options in the city and put together a list, organized by ordering deadlines. Act soon, or you'll get stuck eating frozen mozzarella sticks. How tragically mainstream.
Momofuku Noodle Bar
The Food: Korean-style fried chicken wings with four sauces and an assortment of seasonal vegetables, roasted rice cakes, ginger scallion noodles, chilled spicy noodles, kimchee, pickles, and nonalcoholic mulled apple cider. The $250 spread can feed eight to ten people.
Ordering Deadline: E-mail events@momofuku.com by 6 p.m. on January 30.
BrisketTown
The Food: The Waterboy ($100) includes a tray of chopped brisket and a rack of ribs, plus coleslaw, German potato salad, pickles, onions, and rolls, and feeds five to ten people. The Touchdown ($145) is the same food, but enough for ten to fifteen, and the Lombardi ($180) can feed up to twenty. "Bonus Points" include platters of macaroni and cheese, pies (sweet potato, banana cream, and apple custard), housemade Risky Krispy treats, and chewy chocolate chip cookies.
Ordering Deadline: January 30. Free delivery in Williamsburg, and $40 in other areas.
Murray's Cheese Shop
The Food: A $65 "Football Feast for Foodies" spread includes gourmet Cheddar, aged gouda, double-cream brie, sopressata, La Quercia Lomo, as well as a Spanish cocktail mix, crackers, and Liddabit beer and pretzel caramels. Murray's also has a big catering menu that includes large-form sides, salads, and entrees.
Ordering Deadline: If you want the above package shipped, place your order online by midnight on Wednesday. But you can pick up other platters in the store through Sunday.
Momofuku Ssam
The Food: A $350 package for eight to ten people includes a whole slow-roasted pork shoulder Bo Ssam with bibb lettuce, napa kimchee, mole sauce, and tomatillo salsa. You also get Oaxaca cheese enchiladas, guacamole and tortilla chips, fried plantains, rice and beans, and horchata and dulce de leche cake truffles from Milk Bar.
Ordering Deadline: E-mail superbowl@momofuku.com by 6 p.m. on Wednesday, January 30.
The Dutch
The Food: Though the restaurant normally never offers takeout, it's making an exception for the Super Bowl. $130 gets you sixteen pieces of buttermilk-brined fried chicken, honey-butter biscuits, collard greens, mashed potatoes, coleslaw, and an off-menu bourbon apple pie, which will feed four to six people.
Ordering Deadline: Order and schedule your pickup before 5 p.m. on Thursday, January 31. You must be an Urban Daddy member to purchase the deal.
Northern Spy Food Co.
The Food: Among a variety of game-day specials, there's a Super Bowl Feast that includes one quart of beef, pork, and black bean chili; two beef and cabbage kolaches; two chicken, blue cheese, and Piri Piri kolaches; two potato and kale kolaches; six pork sticky rolls; six everything pretzels; and four pieces of cornbread for $75. You can also get individual items like the kale salad in one-pound increments. Plus: Pie!
Ordering Deadline: 6 p.m. on January 31 for your choice of pickup or delivery on February 2 or 3.
Fletcher's
The Food: Full racks of St. Louis ribs, smoked wings, Queso, chopped brisket, tortilla chips, pit-smoked beans, and fridge pickles for four to six people. Packages start at $115.
Ordering Deadline: January 31.
Pork Slope
The Food: $195 for one pork shoulder, 25 wings (Buffalo or barbecue); half-tray of slaw, half-tray of baked beans, half-tray of potato salad, plus pickles, sauce, and buns.
Ordering Deadline: 48 hours advance notice are required, so we suggest you place your order by Friday morning on February 1 (latest). Pickup and delivery are both available.
No. 7 Sub
The Food: The sandwich shop's offering incremental packages: The Lawrence Taylor is either a three-foot sub ($200) or a six-foot ($275) with two sides. The Tiki Barber is the same deal but with four sides, and the Tebow/Sanchez comes with two subs and all sides. Sub choices include Roast Beef, the Godfather Part II, Zucchini Parm, Broccoli, Mongolian Tofu, and more (and you can mix and match). Choose from sides like fried chicken, seven-layer dip, and pigs in blankets. You can also get three-foot and six-foot subs à la carte for $125 and $200, respectively.
Ordering Deadline: E-mail katherine@no7sub.com by 5 p.m. on February 1 to place your order. Delivery only at Greenpoint and Ace Hotel locations; the Plaza location can deliver on game day.
Tacombi at Fonda Nolita
The Food: DYO taco bar: For $200, you get ten servings of chips and guac, 30 tacos (which can be any combination of the menu's nine varieties), as well as grilled corn and housemade salsa.
Ordering Deadline: Urban Daddy members must place the order by 5 p.m. on February 1; both delivery and pickup available. You can order the make-your-own-taco-bar through Tacombi directly with no cutoff time, but you won't get the steep discount.
Parm
The Food: A three-foot house-roasted turkey hero for $40, a chicken or meatball parm sandwich tray for $85, a sausage and pepper tray for $85, and lasagna for $100. You can go all out and get the $340 package, which includes all of the above (minus the sausage), plus a Sunday Salad and a coffee cake. All items are meant to feed ten to twelve people.
Ordering Deadline: E-mail party@parmnyc.com by February 1.
606 R&D;
The Food: Pimento cheese with saltines, carrots, and celery sticks, Texas and/or three-bean chili, red cabbage slaw, skillet cornbread, and six assorted cake doughnuts (cinnamon sugar, powdered sugar, plain cake) — all for $60 (serves four). You can BYO Growler for any of their three draft beers: Kelso pilsners, Peak Organic Winter Session, and Keegan Mother's Milk Stout.
Ordering Deadline: February 1. Pickup only.
Mighty Quinn's
The Food: A pound of brisket, a pound of pulled pork, a rack of spare ribs, medium thighs with sides of pickled onions, chili, cucumbers and coleslaw for $65.
Ordering Deadline: 8 p.m. on Saturday, February 2.
Luke's Lobster
The Food: Luke's is offering $10 off for every ten rolls you order. To serve ten guests lobster rolls, it'll cost you $140. But the shrimp and crab ones are tasty, too — and they're less expensive.
Ordering Deadline: Anytime on February 2.