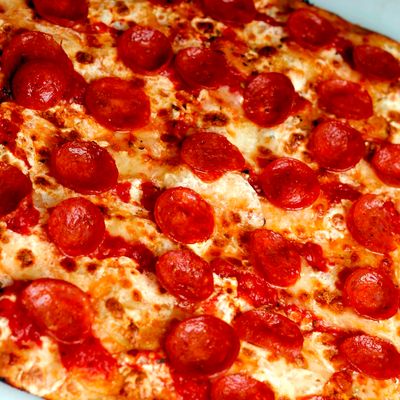 Pepperoni not included.
Photo: Harry's Italian
Old Greenwich, Connecticut pizza chef Bruno DiFabio will try to make five pizzas in less than 28 seconds, the Post reports, and set a new world record in the process. To earn his place in the books, the veteran pie-maker must produce uniform discs of dough that completely cover the regulation screens, and you can be sure that Guinness officials will have their finely tuned custom pizza calipers out when they visit the Harry's Italian Pizza Bar, which will host the record-shattering attempt in a few weeks.*
Just because his secret weapon is something called the "New York hand-slap," however, we're confident that DiFabio, a former owner of the now-closed 900 Degrees, will win.

Yonkers native Bruno DiFabio aims to make the world's fastest pizza [NYP]
Earlier: What to Eat at Harry's Italian Pizza Bar, Opening Monday in BPC
*This post has been corrected to show that Bruno DiFabio is not the chef at Harry's Italian Pizza Bar, but that the restaurant is hosting the event.