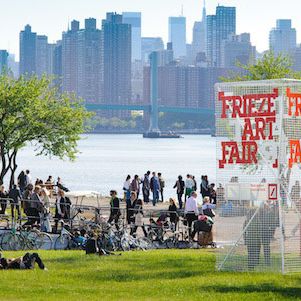 Oh, oh, oh, it's magic.
Photo: Courtesy Frieze
Is Eleven Madison Park's high-concept magic-trick dessert catching on? Well, probably not, but there will be a "hidden speakeasy" at this year's Frieze New York, which takes place on Randalls Island in May. Guests who locate and make it through the "secret door" hidden within the fair will be treated to cold drinks made by "mixologist-magicians," Artinfo reports, who'll "perform tricks while preparing drinks."
Also on tap is an homage to Gordon Matta-Clark's Food, the short-lived, experimental Soho restaurant of the seventies, which seemingly packed more interesting ideas per square foot than any number of today's restaurant rows. (Leftover oxtails, veal bones, and frogs' legs were cleaned up and garlanded together into take-home memento necklaces for guests, for example.) John Ahearn's "Food 1971/2013" will combine an exhibition about the restaurant with a fully operational restaurant that will host a new artist as chef for each of the fair's four days.
Frieze New York Announces Projects for 2013 Fair, Including a Speakeasy and a Cemetery [Artinfo]