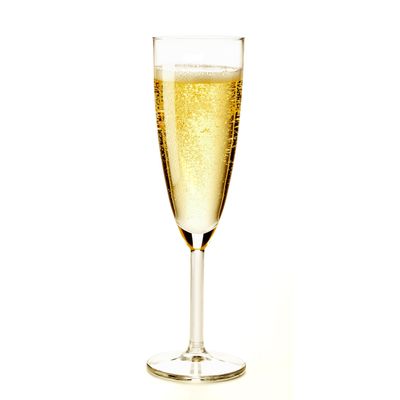 Didn't go through customs.
Korbel has made a special cuvée for President Obama's second inauguration, which they're bottling as "Korbel Natural, Special Inaugural Cuvée Champagne, California," and once again the French wine lobby is annoyed that Americans are co-opting the word "Champagne." Per U.S. law, the label is supposed to read "California Champagne," and the French would actually prefer it say "sparkling wine" anyway.
This is a battle that goes back many years, ever since California started producing drinkable Blanc de Blancs back in the sixties. California's Schramsberg Vineyards was among the first, and Richard Nixon brought their wine (which they labeled as Champagnes until 2006) to a dinner during his famed trip to China in 1972, and Schramsberg then became a mainstay pour at State dinners. Now Korbel will get some attention at this inauguration, but the Champagne Bureau has lashed out about a press release from the administration today that referred to Korbel's bottle simply as "Champagne."
"While we do not support this practice [of using the word Champagne next to California], it is U.S. law and we would urge the inaugural committee to follow that law and not state the sparkling wine being served is Champagne," they whine. Sour grape, anyone?
French wine lobby bristles at California 'Champagne' for Obama's inauguration [Hill]