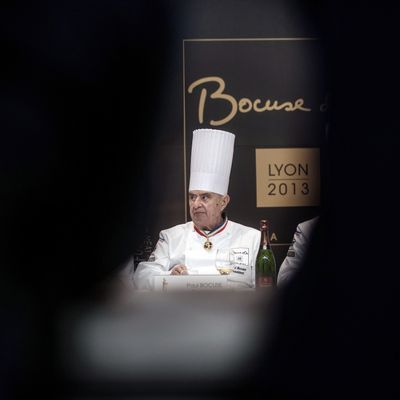 Picky eater.
Photo: JEFF PACHOUD/AFP/Getty
Congrats to France, which just took the top prize at the world's most prestigious culinary competition. Denmark (winner of the gold last year) was awarded silver, and Japan got bronze. Team USA placed seventh, but captains Richard Rosendale and Cory Siegel (of West Virginia's Greenbrier) shouldn't feel too bad; we've never placed higher than sixth. And apparently, "Born in the USA" played at some point during the competition, which is a huge win in itself. If you don't agree with the results, you can blame Bocuse d'Or USA Foundation president Thomas Keller, who judged the meat platter. Check out the full list of winners, straight ahead.
Best Promotion Guatemala
Best Poster: Hungary
Best Commis: Kristian Curtis from Team United Kingdom
Special Fish Prize: Norway
Special Meat Prize: United Kingdom
Bronze: Japan
Silver: Denmark
Gold: France
Earlier: The Bocuse d'Or 2013 Has Begun
This post has been updated to include the results for Team USA.